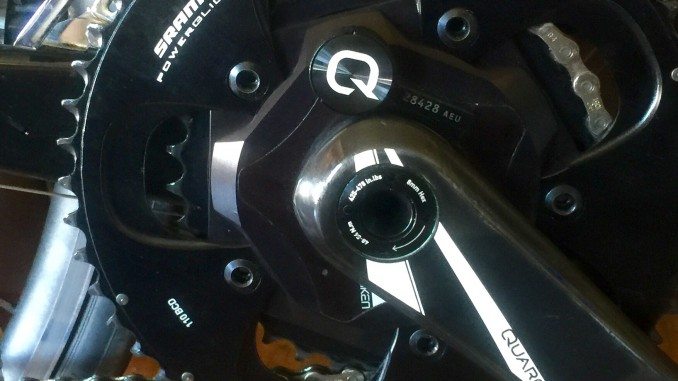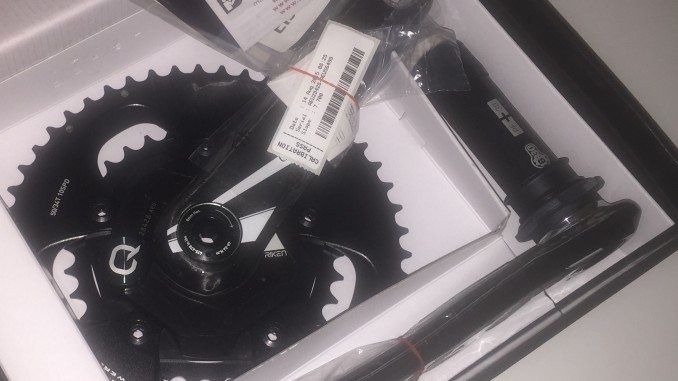 As the evil Sith, Darth Sidious (aka Emperor Palpatine) said while reveling in the wattage emanating from his fingertips, "Power! Un-lim-i-tid POWER." Well, there's nothing evil about knowing exactly how many watts you're putting forth from your legs, but there's definitely the same exhilaration in watching your exact output at any given time.
And if you've never experienced the surge in confidence that comes with adding a power meter to your training setup, you're in for a treasure-trove of Jedi-like gains. Not like dark-side, choke the guy across the room kind of way, more like I'm totally gonna pass you on this climb because now I know exactly how much energy to expend and you don't kind of way.
Thanks to the folks at Quarq, I've been testing the new Riken R (basically the same as the more budget-conscious AL–more on why I'm reviewing the Riken R a bit later) for just over a month. And this crankset lives up to the hype in a big way. Feature-rich, consistent, and easy to use, the Riken has completely won me over.
This review will also cover my specific installation and calibration journey. If you want to skip to that, feel free to scroll down now.
QUARQ RIKEN AL/R SPECS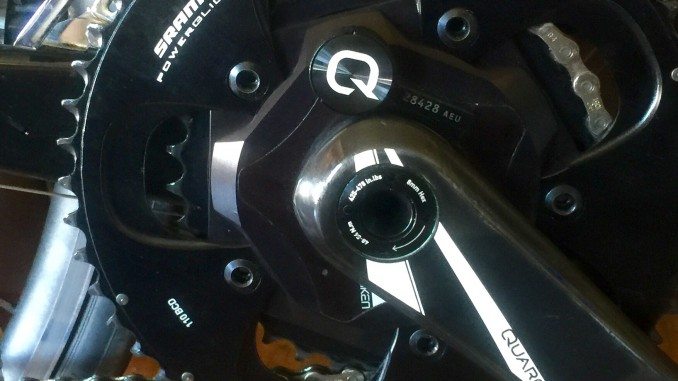 Price: The Riken AL starts at $799, and the R (tested) starts at $1099 sans chainrings.
Materials: Forged Aluminum (AL) or Carbon (R) crank arms with CNC Machined spider
Weight:  Approx. 818g (AL) or 656g (R)
Features:
10K Active Temperature Compensation calibrated with over 10,000 data points
AxCad accelerometer cadence (no magnet required!)
Waterproof at 1meter for up to 30 minutes
+/- 1.5% Accuracy (for reals)
OmniCal (Riken R only)
LED Indicator that tells you when it's awake, asleep, and what's up with the unit
300 hours of ride time on a single CR2032 battery
ANT+ Compatible
The Upsides: Seriously accurate and consistent numbers in a reliable unit with full Right and Left leg power readings at a really decent price point ($799). No need for a magnet install for cadence readings. Once you install the system, it's user-friendly and easy to calibrate/maintain. The free Qalvin software lets you check up on settings and the health of the power meter as well as update firmware via your smartphone (with ANT+ device) or computer–and Quarq's customer service is quite unrivaled.
The Downsides:  Takes a few rides to settle in, and some cyclists might not be brave enough to tackle the install and setup process–a trip to your local bike shop might be in order. If you're one with a few different bikes, you won't be able to easily swap it between bikes without a little wrenching (assuming they fit across bottom brackets).
The Review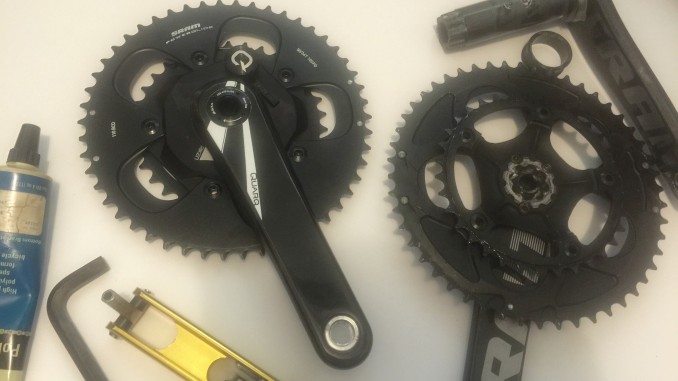 I've spent a little more than a month with my newest friend, the Riken R. In that time, our relationship has been quiet. I know, that doesn't sound like a glowing recommendation, but in reality it's the best thing you can say about something as complex as power. The Riken does its job. Steadily and consistently.
Gathering the right/left leg data, the Riken consistently averaged about 10watts higher than my previously installed Stages power meter. I like higher watts, but really what's more important is that the numbers on the Riken remained consistent over the entire test period. Before I let the unit settle for the first few rides, it did have some small fluctuations–including reading quite low even during maximum efforts. I didn't, however, notice any real jumps after the initial break-in.
REAL WORLD USE
In reality, it is somewhat pointless to compare power outputs across systems, as I did against the Stages. The units vary–the Stages only gathering left-leg measurements–and what's really more important in a power meter is that it gives you consistent and repeatable data. So, I went the scientific route, and tested the Riken in the real world: same exact workouts, same exact roads, same exact efforts at the same exact times.
When examining the power profiles, I noticed that the Riken actually drifted less up and down across efforts than the Stages had under the same conditions. I'm not putting down Stages here at all, but I assume that the difference is related to the single-sided data and my own right-leg dominance. The Riken was just downright smooth and consistent across tests.
And getting the same numbers every time makes sure you're able to actually put in the right amount of work . . . you know, you save energy and remain much more awesome for way longer.
THE VERDICT
My real-road tests reinforced why the Riken grabbed my interest in the first place: the $799 price tag. This unit is nothing if not bomb-proof. It just works, and it works well.
If you do notice some funny numbers on a ride, the auto-zero (pedaling backward 4-5 revolutions) gets everything right again. The LED light lets you know the unit is on, the battery isn't dead, and that everything is working as it should be. It synchs with my Garmin in seconds, and the aesthetics of the unit look pretty sweet (nothing hanging off anywhere or mismatched). As a user of Speedplays, I like keeping my usual pedals as well.
Getting the reliability of the SRAM Quarq name at a portion of the cost makes this power meter a strong contender for a great deal of cyclists looking to take that next step toward a serious training/racing tool. Once you ride with the Riken, you'll never be able to go back.
GET YOUR OWN QUARQ RIKEN POWER METER
UPDATE: Quarq did a full update on the Riken AL and R this year and released the DZERO at a similar price point. Check out Competitive Cyclist or Ribble Cycles
You can also head over to the Quarq website or ask for it at your LBS.
OK, the review is kinda over, but, wait, there's more. So much more. Read my install process below for a few more detailed thoughts and tips on the Riken.
INSTALLATION
Your setup will vary based on your bottom bracket, etc. But here's the install process with my Cervelo R3.
First things first, in the excitement of installing your new power meter, do not forget to remove your pedals before you do anything. Trying to wrench them off while holding your crank won't go very well.
Next, remove the old crankset. Mine uses a simple 10mm allen wrench on the drive side arm. Simply spin it counter-clockwise until the drive-side crank and chainrings release. Set that piece aside, and pull the non-drive side crank out. Keep track of all the spacers and where they went. It's a good practice to place them back on the spindle in the same order, so you can refer back to that when you're putting everything back together.
I took the opportunity to install a brand new chain with the new crankset–didn't want to muck up or prematurely wear the new chainrings. If your chain is on the cusp of being too stretched, just go ahead and replace it.
You'll definitely need to grease everything up pretty well before putting it all back together. Quarq's install manual tells you exactly where to place the grease–just make sure to slather on plenty of it. I used Polylube 1000, in case you're wondering.
I didn't actually intend this to be an install how-to, but I have a bit of trial and error with the spacers and my BB30 and BBright bottom bracket compatibility, so I thought I'd go a little more in-depth on my process. Quarq pretty much had me covered here with a myriad of spacers, and one adjustable ring, for a highly custom fit. But with my setup, I ended up removing all but the original spacers and the wavy washer on the non-drive side.
Once you've got your spacers figured out, tap the non-drive side crank through first. You may need a rubber mallet (hit it gently, folks), but I just sort of smacked it through with my palm. But then, I am ridiculously strong.
Before you attach your drive-side, make sure you've got your chain set to the inside chainring–otherwise it's a frustrating dance to get it back over from the outside.
Get it all set, and now an 8mm allen key tightens it down. Do a quick check to make sure nothing is rubbing, your cranks are spinning smoothly, and there aren't any creaks or rough spots. If all looks good, you're on to calibration (oh yah, you might want to put the chain back on at some point, so, you know, the bike goes when you pedal).
This brings me to one note: before you pull the trigger on the Riken, make sure you're getting the correct one for your bike. Check compatibility with the super friendly folks at Quarq before you order The reason I'm reviewing the Riken R, and the not the somewhat more cost-effective Riken AL, is because the AL was not compatible with my particular Cervelo. Both units work the same way, and are essentially the same, but the R is full carbon.
Calibration & Setup
The Riken is pretty straightforward when it comes to calibration. You watch the LED light (see how many times it blinks, which will tell you certain things as per Quarq's chart)
When I first started using the unit, I had a little trouble getting it to stay on and pair with my Garmin. At first, I figured it was a dead battery, but a quick hard reset solved the issue. Basically, I unscrewed the battery chamber (that big Q circle, which just twists open to reveal a CR2032), pulled out the battery and touched the edges to the + and – contact points. After that, everything worked without an issue.
The Riken works with all ANT+ devices, and, contrary to what I've heard from some readers, it will work with the Garmin Edge 500–because that's what I used it with. It's a good idea to update the firmware on your head unit first though.
To zero the unit, all you have to do is place the drive side crank down (the Riken wakes and sleeps automatically, and proves it to you with the handy LED light) when you're off the bike. If it's paired, you'll be asked to calibrate–hit "yes" and then take note of the numbers you see. You should probably write them down. What you're looking at here is the Zero Offset, and it shouldn't vary by more than 50 from ride to ride. If it does, you'll need to contact support.
It's a great idea to zero the unit every time you ride–which only takes a few seconds really. If you forget to do so before you set off (OK, yah, guilty every ride), simply pedal backward for 5 revolutions to perform the auto-zero.
Get Started
Before you head out on a long ride, it's a great idea to soft pedal around the block or on a trainer to make sure everything is installed properly.
I found, as is also mentioned by Quarq, that the Riken took about four rides to really settle in to some solid numbers. Make sure you do some hard efforts (standing sprints) on your first real ride, and use both chainrings.
All right, that was a lot of text to get here. In reality, the Riken took me about 30 minutes to install and calibrate. Not bad at all for a full crankset swap.
A Serious Upgrade
So may you've read my review, and you're still just skeptical of power meters. Why do you need one? amiright? Well, we're out to prove two things. First, we have no shame. Second, you'll see much better gains when you add a power meter to your set up. Yup, we're planning a real-world test between training with a power meter versus heart rate monitor alone. Long-term tests. We'll figure this out once and for all. Keep reading.
Get Your Own Riken
UPDATE: Quarq did a full update on the Riken AL and R this year and released the DZERO at a similar price point. Check out Competitive Cyclist or Ribble Cycles to grab your own.