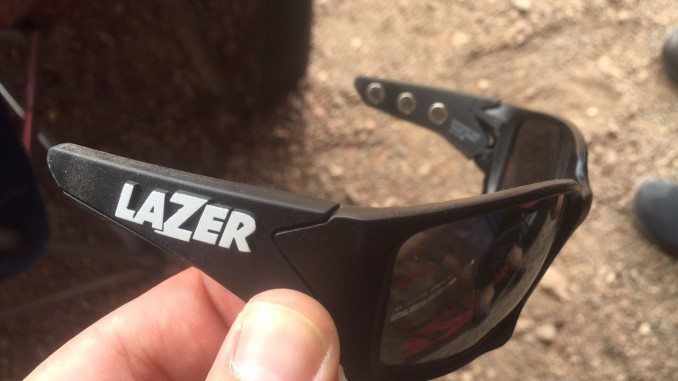 Price: $125 for interchangeable lenses, $135 for photochromatic
Availability: Coming in early 2016
RX: Prescription compatible
Colors: Available in six color options
Brand new update to Lazer's Magneto M1 sunglasses, the new shades share a similar shape (how's that for alliteration, eh?) as the popular Krypton R1. But these work seamlessly with your helmet with the magnetic fit system. New for 2016, the M2 has three magnets that allow for different positions against the face to fit more faces and for up and down adjustments to accommodate multiple riding positions.
The sunglasses attach at your helmet straps utilizing Lazer's clips that can be affixed to any helmet strap–great stuff for enforcing the sunglasses outside the helmet straps rule. An additional docking station comes with Lazer's helmets for carrying the M2 at the back of the head. And interchangeable nose pads allow for more adjustability in the fit with adjustments for different types of faces and positioning on your nose.
At a really decent price point, the M2 starts at $125 for the frames plus three lenses: yellow, clear, and gray. But at $135 you can also grab the photochromatic version which adapt to all types of light. Of course, Zeiss lenses are quality with a repel coating that makes moisture bead and run off, and tells dirt, grease, and dust to take a hike.

Finally, the coolest thing about the M2 is that it features removable ear pieces so that you can utilize the magnetic system on the bike, but wear them like regular sunglasses when you're off the bike.
That's what we caught from Outdoor Demo about the M2! We hope to be testing these for you in the near future. But stay tuned for more Lazer info to come on with their newest Z1 and Lifebeam tech! And be sure to check out Lazer's site to find out how to get your own.