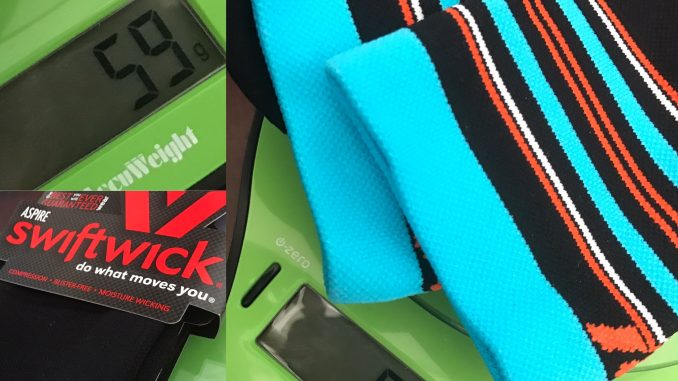 Last year, at Interbike, the Swiftwick booth was buzzing. Literally. The tattoo artist was busy offering free-of-charge, no-regrets, colorful and permanent tattoos. In Vegas, this was popular. But even more popular than personalizing your skin permanently with ink: personalizing your skin not permanently with Swiftwick's socks.
Now this is the amount of commitment I'm ready for: Stripes.
Swiftwick Aspire Earns Stripes
MSRP: Aspire Four: $16.99; Aspire Seven: $17.99
Availability: November 15
Colorways: Yellows, Blues, Reds, Greens, Oranges . . . just lots. Thirteen colors to be exact. In both four and seven inch cuff heights.
If you've never worn a pair of Swiftwicks before, check out my review of them from a few Interbikes ago. I've been riding in Swiftwicks ever since, and, as one who has tried pretty much every brand of sock out there, the Aspire is definitely my favorite.
A super breathable, super contoured sock, the Aspire gives you great compression benefits and it fits well in cycling shoes (especially good if you want to minimize bulk–say for those of us who don't want to feel crammed into a pair of kicks). Plus, they're made totally in the USA without chemical additives to make them moisture wicking. In my experience, they stay dry and keep you blister free even after several hours of riding.
And Swiftwick is really good about bringing you colors that not only look cool but match your kit to perfection with cuff height options to match every leg height option.
See that dude? He's stoked just looking at these stripes. And I will admit, they look pretty sweet with just about any kit–especially the Sevens.
Swiftwick's new Aspire Stripes release in just a few weeks. In the meantime, you can check out their current line at Swiftwick.com or visit your local bike shop.