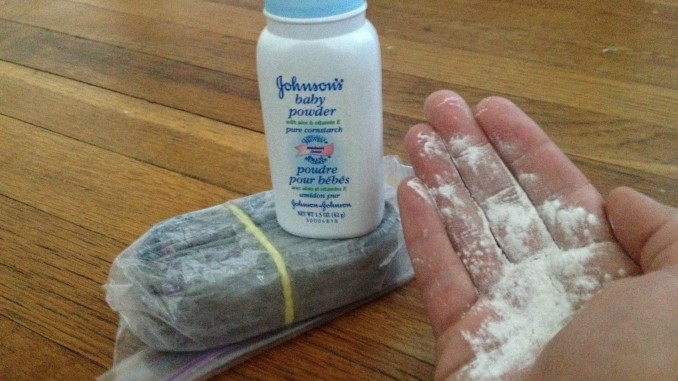 Whether or not you have kids, there are a few baby supplies you should keep in your bike room. Baby powder  and baby wipes have several uses from cleaning the grime off your frame to making race-day transitions smooth (pardon the pun).
Transitions: Besides keeping you smelling fresh during your ride and run, baby powder can help get socks over wet feet. Although many triathletes forego socks altogether, I say take the extra 10 seconds and be comfortable for the rest of the race.
Step 1: When setting up your transition towel, use one large enough that you can fold in half before setting all your gear on top. Be sure to leave a few inches of space near the front of the towel and, after you get your things set the way you like, fold back the top side of the towel.
Step 2: Sprinkle some pure corn starch based powder (ignore the other kinds as they can irritate your lungs) onto the upper fold of your transition towel
Step 3: Put your wet feet on the lower side of the towel, and flip the folded back part over the top of your feet. Not only will you quickly dry up some of that ocean water, but you'll also send baby powder cascading to the tops of your feet–leaving your feet smelling great and your socks easier to unroll.
Storing Tubes: Aside from keeping your feet fresh in a race, baby powder can also keep your tubes moving freely in your bike tires after changing a flat. It helps to eliminate pinch flats while inflating the tube, keeps the tube from sticking to itself, and reduces friction. I always carry my spare tubes in a Ziploc bag (as shown in image) with a little baby powder inside.
Baby Wipes & A Clean Bike: You know those expensive cleaning wipes you can buy at the bike shop? They work just fine to keep your bicycle clean and shiny, but baby wipes work just as well–if not better. You can often get a pack for less than a dollar, but you'll end up buying them by the case once you realize just how many uses you can find for them. Try a few from the head tube to the cassette, and you'll be astounded by how much grease and grime they pick up. They're safe on your finishes (I've been using them for years on my bikes), and they can slide easily between chainrings. Plus, there's not a much more portable solution for washing your bike while traveling or after an out-of-town ride.