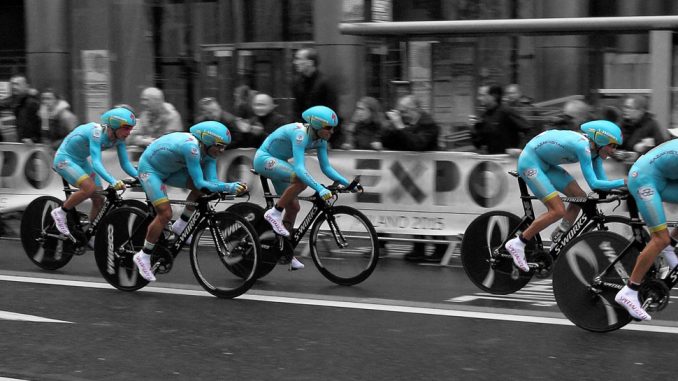 Matt: "I'm making the jump from workout shirts to a bike jersey, but I don't know what size to buy. How should cycling jerseys fit? Do you have any recommendations for brands?"
Cool. I like your question, Matt. Because it shows a couple of things: you've got guts, and you want to look good. I'm for that. So here are my tips on how to get kitted up in style.
In order to answer your question, I really need to break this up into three sections: proper fit tips, brands I'm stoked about, types of cuts.
Tips for Fitting A Bike Jersey
Make it Snug: A properly fit road jersey should do a few things for you, and none of those things involve being loose. You want a firm grip at the cuffs, but not so firm that it constricts your movement or cuts off your circulation. Generally, if you can easily pinch up more than a half-inch of fabric at the sleeve's edge, the fit is too loose. Sleeves should definitely never, ever, ever flap in the wind while you ride.
In t-shirt terms, you want something less tight than a base layer (think muscle-squeezing Under Armor shirts) but more tight than your usual workout T. That means, it should be close enough to your skin to both avoid chafing and wick sweat away, but not so form-fitting that it shows off your six pack.
Avoid Sagging Waists: For the same reason you don't want flapping sleeves, you also don't want a flappy, saggy waist. Get a top with waist grippers to keep the hem from hanging way, way down. If not, you'll find your jersey getting caught on the back of your saddle, or you might have a tendency to sit on it. This tip is especially important if you plan to carry anything in your jersey pockets. And, yes, you'll carry things in your jersey pockets.
Everyone Needs Pockets: Most road cycling tops come with the standard 3-pocket design. If you're looking at one with fewer than that, you might want to re-think that jersey. You'll want at least 3 pockets in the back, and an extra zippered pocket or two are also helpful (like the one on Voler's Black Label jersey shown at the left).
Always Go Full Zip: You've usually got two choices here: three-quarter and full zip. Always go full zip. Not only will you be able to more easily remove or add layers on the bike, but full zips also make you look cooler. You often see the pros with their jersey fully unzipped on hot days, which is really the only time that jersey flapping is accepted.
Length Matters: When you pull on a jersey, the first thing you should do is lean over. Why? Because length is a crucial deal here. You don't want the back of it hanging down low–it should sit right below your hip-line, generally, when you're in your regular riding position.
You also don't want it riding up too high either . . . for, obvious reasons. If you start revealing too much above the waistline, you're gonna have a pretty nervous ride constantly pulling down the back of your jersey (of course, bib shorts do solve a lot of problems).
While you're leaning over, check for zipper bunch around your stomach. Although a small fold of jersey is natural when you're bending forward, you certainly don't want a lot of material gathering at the front–this can often indicate whether your jersey is too long.
Hit the Fitting Room: Personally, I hate trying clothes on in a shop. It's not my deal. But I'm telling you to get over my hang-up. You really gotta try a jersey on to see how it fits. In fact, grab a few different brands with different features, and see what you like. Yes, it will likely be tighter than what you've been used to with workout clothes, but you'll get a taste for what's good and snug or what's lousy and constricting.
These Are My Brands
Every cyclist has different opinions on what brands they like, so really it's a good idea to just try on a bunch. In my years of cycling and racing, I've hit on a few favorites because they're consistently high quality, last a long time, and they just fit right.
Voler: Probably my favorite brand out there. Partly because they're a local company here in the San Luis Obispo area. Voler takes nice fabrics to the limit–meaning they pour out comfortable and quality cycling clothes at every level of their brand–and it's all made in the USA. Plus, you can find some killer closeout deals. In fact, just for being a loyal SLO Cyclist reader, you can grab $10 to spend on your first order. Yes, I definitely recommend Voler. You might also want to check out some of our reviews for more info.
Santini: Another brand that just tends to pretty much bring it every time, Santina's upper level kits are all-day comfortable. But you'll definitely want to go with the upgraded portions of their line. We've reviewed a few Santini kits too.
Castelli: They're just winners. Although the downside with Castelli is generally the price, their kits will last you a long time, and keep you riding in high-tech comfort. Plus, their color schemes are pretty subtle for instant road cred.
Now a Word About Cuts
Cuts and brands fit differently. There are not only various brands, but also various fits within those brands–which means you'll really need to try on a kit before you buy it, or measure yourself carefully if you're buying online. There are generally three main categories of fit:

Club Cut: Looser, more relaxed fit. These often don't have much by way of silicone grippers at the waist or sleeves, and only a 3/4 length zipper. Shorts and bibs often have lighter compression, less "technical" material, and may or may not have leg grippers at the thighs. The club cut is usually worn by cyclists who aren't looking for high performance, or don't really feel totally comfortable in spandex just yet.
Race: Generally more form fitting with higher compression values, mock necks, full zips, grippers at the waist, sleeves, and thighs. Most cyclists tend to gravitate toward these cuts.
Aero (sometimes called "Pro"): Yah, just "super tight." Aero cuts are generally meant to fit like a second skin. And this skin ain't got no give. Jerseys are often shorter waisted, and cuffs are seamless in transition from your own skin to the fabric. On these, you might also consider going one size up.
These fits, of course, aren't universal across companies, so you'll have to find out specifics for the brand you're looking into.
European brands usually run smaller than US brands. Some Italian brands are up to 2 sizes smaller in fit. Various brands will fit differently as will Euro brands, which generally run one or two sizes smaller than US sizes.
Well, that's what I've got. Hope it helps, Matt. If you've got more questions, send them along. Then you can be cool like Matt too.

In case you haven't noticed, we've got a new contributing writer taking over our ever-popular readers' questions section. Now re-labeled Ask Alpha Ninja, here our very own Alpha Ninja is voicing opinions and helping you with cycling's toughest questions. You know, the questions that require serious brainpower, exceptional bike skills, and fearless vernacular to answer. Like, "Does this jersey make me look faster?"
Cover Photo by Ruaraidh Gillies