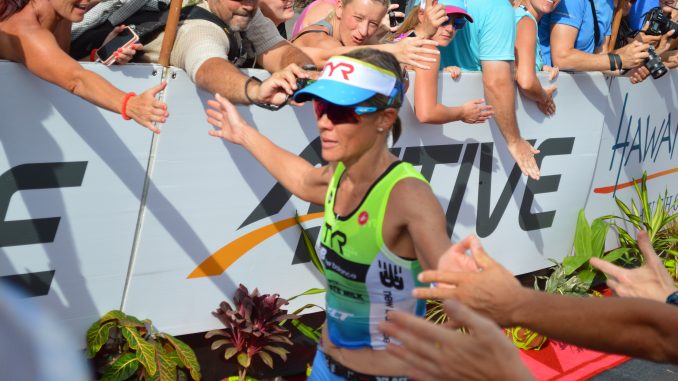 You know the feeling, right? You're competing at Kona, the World Championship just 16 riders ahead of you–you down some GU Roctane, and pedal at your pace. Passing three riders before you hit T2. More GU, as your shoes tap the Hawaiian pavement. Twelve runners ahead. Five runners ahead. Remind yourself why you had a light protein the night before. Second place is in reach! You book it up the chute to glory.
OK, maybe we don't all know exactly that feeling (mostly I nod and wheeze at people as they pass by me on the run), but fueling right before and during a race can make a major difference in how your body responds to the demands of endurance sport. Cue GU Energy Labs Athlete Mirinda Cafrae in her race to capture second earlier this month in Kona–she's shared with us just exactly how much GU it takes to step onto that Ironman podium.
Mirinda Carfrae's World Championship Nutrition Plan
In case you weren't watching the 2016 Ironman World Championship in Kona on Oct. 8th, Carfrae proved again that she only gets stronger throughout the day by moving from exiting the water in 16th place, passing three riders on the bike, and ultimately taking 2nd place overall on the run. Congrats, Rinny!
Carfrae is a creature of habit when it comes to nutrition in her race preparation and race day strategy, and sticks to the formula for success that has helped her achieve podium status (including three overall victories) at seven World Championships.
Carfrae says she is fortunate that the plan she developed several years ago (with the advice of a nutritionist) has served her well since the time she first stepped up to longer distances. Here's a look at what Carfrae consumed to fuel her to this year's podium:
How Carfrae Fuels Before & During an Ironman
Night before the race: Keep it simple with an early dinner of chicken, rice, and tomato soup.
Race morning: Carfrae has a light breakfast (usually oatmeal or toast) three hours before go.
During the race: 15 minutes before the gun goes off, she takes a GU Energy Gel to get her through the swim. Onto the bike, Carfrae sticks to a strategy of 75-80g of carbohydrates per hour from GU Energy Gel and GU Roctane Energy Drink Mix.
Once she hits the marathon, her intake is more of a steady stream in small amounts based on how she's feeling. She carries two flasks of GU Roctane Energy Gel and regularly takes small sips. While running through aid stations, she drinks as much water and Coke as she can grab (plus dumps water on herself to stay cool). The steady intake of GU Roctane Energy Gel helps keep her energy up at an even level. This process has been critical in helping Carfrae in marathon performances like her race at Kona.
Why Three Kinds of GU?
GU Energy Gel: Made for daily training and competition, GU Energy Gel is a 100-calorie packet that helps sustain energy demands during activity. It has all the nutrients needed to power performance: quality carbohydrates (complex and simple carbohydrates provide immediate and long-lasting energy; non-competing pathways maximize absorption and utilization while diminishing stomach distress), essential amino acids (prevent mental fatigue and repair muscle damage during long-duration activities), and electrolytes (replenish what's lost when you sweat).
GU Roctane Energy Drink: For high-intensity and demanding activity, the 250-calorie-per-seving Roctane Energy Drink packs even more electrolytes and carbohydrates than GU Hydration Drink Mix. Also includes essential amino acids like taurine, which improves cardiac output during long exercise sessions.
GU Roctane Energy Gel: The 100-calorie packets are made for demanding training and competition. Roctane Energy Gel stands out from the original GU Energy Gel with more sodium and branched chain amino acids.
The Takeaway
Obviously key is Carfrae's use of light protein and rice, and soup as an early dinner. She's got carbs but she's not going nuts with them. Also important is that 3-hour window she gives her body to get ready for the race after breakfast. She's got energy-packed foods that sustain like oatmeal and toast. Then a shot of GU before she starts makes sure she starts off with fuel to burn–and she keeps stoking the fire strategically.
Personally, Salted Caramel GU and Coke are pretty much my favorite things on the planet. Seems Rinny and I are kindred spirits. It's like we both won. Except, you know, I was just watching the race on TV while drinking Coke. Minor detail. Still proud.
Of course, if you want to learn more about how nutrition planning can help you become your most awesome athletic self, check out www.GUEnergy.com for tips.