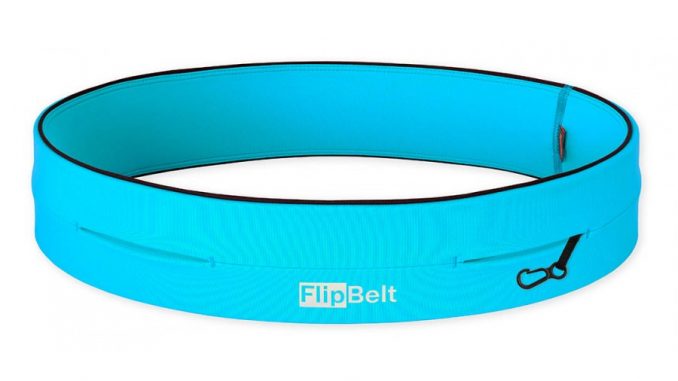 I'm not new to running. I'm also not new to the problem of trying to carry all the necessities without sporting cargo shorts on every run, and I was using a very basic band to hold in my keys and phone while on short runs, and a thicker one for hydration on longer treks. So I was intrigued when the folks at FlipBelt sent over their popular carry-all band. Some of FlipBelt's features may have won me over for my future runs–read on for more details. Including a light that charges while you run . . . .
FlipBelt Tech Specs
Please enjoy the following chart, which details everything included in the box:
| | | |
| --- | --- | --- |
| Item | Price | Available in Multiple Colors |
| FlipBelt Classic* | $28.99 | Yes |
| Flip Belt Zipper* | $34.99 | Yes |
| Million Mile Light | $19.99 | Yes |
| Water Bottle – 6 oz. | $8.99 | No |
| Water Bottle – 11 oz. | $9.99 | No |
*available in sizes XXS-XXL
More Info at Flipbelt.com | Buy it from FlipBelt or Amazon.com
The Review
FlipBelt Classic Edition & FlipBelt Zipper Edition
I have tested both, the Classic Edition in a medium and the Zipper Edition in a large. Because I'm not shaped like the models, I admit to being a skeptic on how the belt would work with my curves. I wear a size 10-12 which equates to the measurements for a large belt.
This belt hit me lower on the waist and even with items in it, but never folded over. Sitting so low on the waist, I was actually able to wear this one underneath my shirt, hidden from view.
The medium belt sat just below the belly button. When the belt is worn high, it's easier to wear it outside of the shirt. Again, the belt lay flat and didn't fold over during the entire run.
Million Mile Light

The Million Mile Light is light weight (love the pun?) and clips on to any part of the FlipBelt. Once clipped on, I forgot it was there until I started seeing a burst of light with each stride.
My first concern was that it would come unclipped and I'd lose it, but it held firm and flashed as long as I was moving without my having to charge it or install batteries. I loved this idea, but I was a little bummed that the light the light didn't stay on unless I was moving. Still a great idea for a light that doesn't run out of juice until you do, and can serve as a good backup when other lights die.
Water Bottles

The water bottles come in two sizes, 6 oz and 11 oz. For long runs I prefer to bring a bottle of water with me. I filled both bottles and placed them into Classic Edition with my keys and my phone and went for a run. Nine minutes into the run, I was picking up the 11 oz. water bottle off of the ground. Two minutes later, I had to pick it up again. Instead, I opted to carry it for the duration.
Throughout the run, though, the 6 oz. bottle barely moved. I figured that this was likely because I was toting too much with the 11 oz. bottle, which is why it didn't stay put. I tried it again with just the 11oz bottle, and all was well. Something to be aware of if you're looking to carry more hydration on a longer run.
The Verdict
The belt exceeded my expectations because my keys and my bulkily encased phablet fit without bouncing or chafing during any of the runs I've taken. Since the belt is not water/sweat resistant, I will continue to use a waterproof sleeve for my phone and money/ID.
The FlipBelt is marketed as a running belt, but I've also worn it while working, shopping, and cycling. I can easily see the FlipBelt waiting for me in transition at my next Sprint or Olympic triathlon and on  my next short distance run.
Get more info on the Flipbelt at their official website. You can also buy it from your local retailer or online at places like Amazon.com.