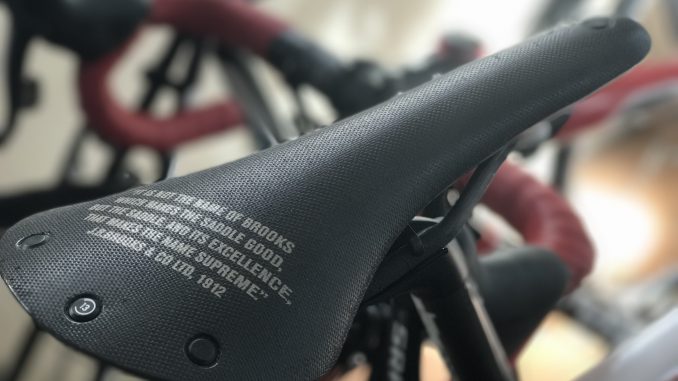 So, we've finally arrived at the final article in our series on finding a comfortable saddle, and making sure the bike seat you have is actually the cause of your discomfort. Make sure to check out the first two: The Truth About Finding A Comfortable Saddle, and The Key To Finding A Pain Free Bicycle Seat Shape before you do finally pull the trigger on a new saddle.
OK, you've read all the tips, you've figured out your ideal saddle shape, and now you're in for some recommendations. Well, I've tried a heck of a lot of bike seats, and I've got three that totally crush the competition in terms of broad appeal. You'll almost certainly find one that fits you perfectly here
THE SERFAS VARIANT SADDLE REVIEW
If at first you saw inserts, and you thought, "Gimmick," you and I would be twinsies. But a few rides on this peerlessly adjustable saddle, and I realized that there was no smokescreen here–Serfas' Variant is just dang comfortable.
With its bag of 5 different stiffness adjusters, the Variant allows you to choose the exact feel of the saddle. Top it with a very soft race foam padding that has just enough give in it to be squishy but not bulky.
A clean look and a low profile make this fit well on any sleek bike while it's still more comfy for a wider variety of riders than other minimalist and "fast" looking saddles. Although it's not totally a one-sized-fits-all bike seat, the Variant has enough features that will appeal to a wide section of chamois wearers.
LOOK AND FEEL
A channel that runs through to the back eases pressure where it counts. But what really sets the Variant apart is the packet of inserts that let you fine tune the flex and feel. In my opinion, it's a good idea to take each of them for a test ride of about 10-15 miles each before you decide on one.
At first, I figured softest was bestest, but found that a middle-of-the-road insert was actually the most suited to my riding style. Thankfully, it's pretty easy to swap inserts via a double-sided bolt under the nose. And you can always toss the extra feel adjusters in with your flat fixing kit for changes on the fly.
Price: $110 | Length: 272mm | Width: 145mm | Weight: 248 Grams
A decent price, and relatively light weight, the Serfas Variant hits a lot of key points for the average cyclist. Check out the Serfas website for more info–including the Variant 2 model. You can also pick it up at your local bike shop or places like Amazon.com.
MELD 3D CUSTOM SADDLE REVIEW
If you read through the previous articles in this series, and you're just thinking, I don't even know how to begin thinking about how to start picking a saddle that fits me. Good news. Meld 3D is here to save you from all that is uncomfortable.
Meld's fully custom seats fit you exactly. Like perfectly. Like crazy perfectly awesome. It all starts with a piece of foam, your bike shorts, and you. For reals. Meld 3D employs a process that captures your exact measurements and then uploads it to their website for your modifications and personalization.
The Meld 3D saddle is completely designed by you–you sit on the foam, send it back to the company, they scan all your measurements into their site, and you order your saddle in exactly the shape/fit/graphics that will make you happiest. All this in a matter of a couple of weeks.
MELD'S CUSTOM SADDLE PROCESS
First you head to the Meld 3D website to trigger the foam block sit kit. Once that arrives, you simply wear your favorite pair of bibs (or shorts) and sit. Make certain to follow the exact directions to get an accurate impression or your seated self.
Then, you simply pack it back up and ship it off. Once Meld has your impression, they'll upload all your specific measurements to the website. Here's where you get to select a few specifics like shape and graphics and rails. A few weeks later, and you'll be ready to ride.
I'm not gonna lie here, this is probably the coolest thing I've ever had the chance of testing. Meld has a commitment to make certain that your saddle fits you with an extended process that makes sure you're happy with your new saddle. A completely custom saddle starts at $250 and you don't have to go anywhere to get it fit to you. Pick your jaw off the floor.
AESTHETICS & RIDE QUALITY
Although the finished product is a little on the rough side, you can definitely see that handmade quality to the Meld. Not a study in aesthetics, but rather a lesson in comfort crafting, the Meld saddle definitely looks cool on my carbon machine. And the fit is, well, perfection.
The carbon shell dampens the ride while the shape of the saddle completely supports my riding style without a hint of discomfort. If you're still feeling pain after getting a Meld saddle, make certain that it's truly the saddle causing it, but you can definitely go back to Meld and let them know how/where/what you're feeling. That's serious custom.
In all honesty, I can't recommend this saddle more. The ride quells all the old complaints from previous saddles, and this baby literally weighs 137 grams. I couldn't be more stoked. I'm a Meld 3D fan.
Get your own saddle at the Meld website starting at $250
BROOKS CAMBIUM C13 SADDLE REVIEW
If you find you dislike a channel or cutout, the rounded top shape of the Cambium C13 should make you happy. But it's not just the shape of the saddle that makes it comfortable: it's the construction.
The epitome of coolness, Brooks England has seriously lightened their Cambium with the carbon-railed C13. Most importantly, its vulcanized rubber top is already relatively broken in and the rails have dampen road buzz. The look is pretty stealth, and the feel has little competition.
LOOK AND FEEL
But don't buy into marketing hype here. This saddle won't feel comfortable to you unless you're suited to its shape (Brooks also offers a carved version with a cutout, but we didn't test this one). We had a couple of testers on this saddle (including myself). I personally could not handle the rounded shell, but our other two reviewers actually fought over it. It wasn't a good fight, but lycra-clad cyclists arguing over gear is pretty much the funniest thing to watch ever. Especially when everyone is wearing cleats.
Sorry, I failed to capture photos of the struggle. But I did catch plenty of superlatives to describe the feel and look of the Cambium. Although this is not really a lightweight saddle in comparison to other carbon offerings, the shape, color, and rear "Brooks" plate look extremely cool on every bike. Extremely.
That having been said, the key here is the flexibility of a Brooks saddle without the usual breaking in period. It makes a huge difference, and is the reason that many cyclists won't climb onto a road bike without a proper Brooks seat–but the Cambium feels comfortable from day one. Definitely a cut above.
Price: $220 |  Weight: 265 grams
Check out Brooks England's site for more info and buying options. But you can also find the C13 at your LBS or plenty of online retailers like these below:
Get it at Art's Cyclery for $189 | Get it at Jenson USA for $198 | Get it at Chain Reaction Cycles for $192 | Get it at Competitive Cyclist for $220 | Get it at Amazon for $138
All right. Those are our top picks. Out of dozens of saddles. What do you think? Have a saddle you love? Be sure to let us know with an email or a comment!