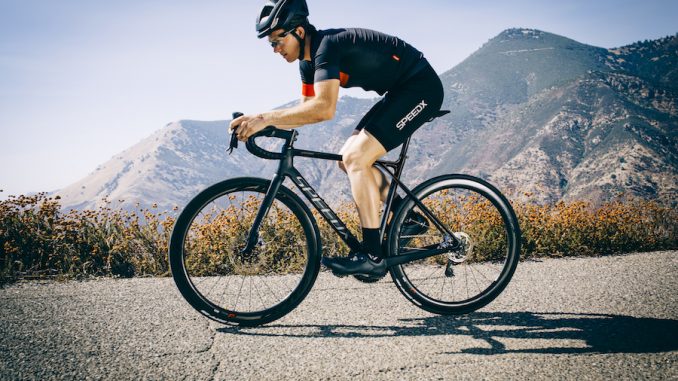 Smart road bike pioneer SpeedX announces its latest top-end model – the Unicorn – which features a highly accurate integrated SpeedX power meter to complement its sophisticated integrated computer. Available on Kickstarter from $3,199, the Unicorn also benefits from a cutting-edge aerodynamic carbon fiber frame with a unique Vibration Control System along with a range of advanced spec options with top brand components.
With Kickstarter prices starting at $3,199 for Di2 (on up to eTap for $5,299) and that includes shipping, we're not left wondering why it's selling so well. Although the disc options might be a little heavy (and sorta not race legal all the time) this looks like a serious speed machine. Heck, it's a Unicorn.
According to the folks at SpeedX, the Unicorn frame gives great power delivery, which is recorded on the SpeedX power meter. With a focus on combining technology with design excellence the company is pushing for fast and technologically complete bikes. With high aerodynamic performance, and weighing in at 850g (including paint), the Unicorn frameset is designed for an ultra-responsive ride with a superb stiffness to weight ratio. Although we've seen some lighter frames, that is pretty feathery these days, and you can get it built up with some pretty high-specc'd components: Unicorn X eTap, Unicorn Pro eTap and Unicorn Di2.
A Little About SpeedX Bike Builders
SpeedX, the bike company whose first smart bike became the most-funded road bike project on Kickstarter, was started in 2014 by cycling enthusiasts Tony Li and Jam Gao to bring hi-tech changes to push the bike industry forward. They first released an app for cycling enthusiasts that has already gathered more than one million users.
Then came the SpeedForce bike computer that transformed regular bikes into smart bikes (raised USD $450K on Indiegogo). And in March 2016, SpeedX launched its smart bike, the Leopard, which became the most funded road bike project on Kickstarter with over USD $2.3 million.
SpeedX are unveiling the Unicorn as the natural next development, bringing to all road cyclists the performance and training benefits of the highly-accurate SpeedX power meter that's easy to use and carries only a minimal weight.
"With the SpeedX Unicorn we've pushed limits to develop a one-of-a-kind lightweight road bike. We introduce our in-house built technology VCS to enhance more comfort when riding along with our built-in power meter with 99% accuracy, and a completely redesigned SpeedForce running on Android OS." says Raggy Lau, SpeedX's CMO.
SpeedX Unicorn Road Bike Full Features
Vibration Control System (VCS): Frame technology to absorb bumps and smoothen out vibrations, while improving comfort, control and speed.
SpeedX Hyper Carbon: A new process to fabricate the Unicorn frame, making it durable, flexible and light.
Integrated Power Meter: Unicorn is the first smart road bike to feature an integrated power meter. According to the folks at SpeedX, it lasts 400 hours or 8,000km. Tested against SRM it recorded a 99% accuracy figure, and is easily rechargeable at home.
SpeedForce: An integrated cycling computer with a 2.2-inch touchscreen. Removable and based on Android OS, it also features a wireless button "Black Dot" that you can put anywhere, for example, your handlebars, to easily switch screens when riding.
Best feature? You can tell everyone you ride a unicorn.
Check out the Kickstarter campaign here for more info or to grab your own. You can also watch this sweet video to see it in action: