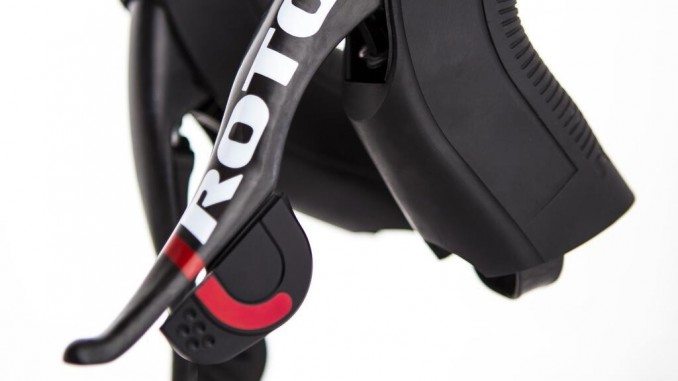 Rotor, popular for their sweet oval chainrings, revealed today that they are launching a fully hydraulic groupset called the Uno. Six years in the making, the Uno is unique in that its hydraulic makeup won't just be used for braking, it will also help keep you shifting like veritable butter.
Set to launch in Spring of 2016, and with Eurobike and Interbike just around the corner, Rotor is poised to capture plenty of attention with its innovation, promising to set a new standard in price point and engineering. Working jointly with Magura to help with design, the Uno is set to compete with other top tier groupsets. With clean aesthetics (we're digging the accents), Rotor says this gruppo will be available for both rim and disc brake systems.
Here are a few more details from the official press release: "Hydraulic technology had already been implemented in the areas of brake and suspension systems; ROTOR sought to apply that same technology to shifting. ROTOR UNO seized its prerequisites from popular groupset features but ROTOR wanted to radically improve upon those features in a manner inline with the company's vision to lead through innovation. Smooth activation, low maintenance, multiple shifting positions, both rim and disc hydraulic brake options, internal hose routing, and low "ride" weight emerged as key characteristics integral to the state-of-the-art groupset."
We're looking forward to getting hands-on with the Uno at Interbike and see just how well the system lives up to Rotor's claims. More details, including how much you might want to throw down for the Uno, soon to come.