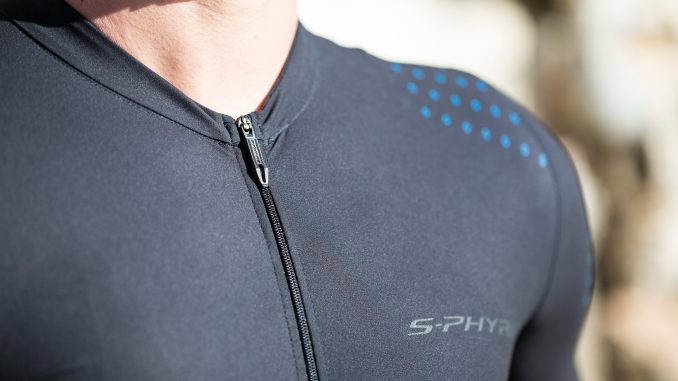 You're a fan of fluorescent. You dig a loud kick. Shimano's S-Phyre road shoes are your current BFFs. Give your shoes the proper accessories with the S-Phyre performance cycling kit.
Now, Shimano expands their S-PHYRE concept with new high-performance racing skin suit, short sleeve jersey, bib shorts, gloves and socks. So you can match that bright blue exactly–and be fast enough to brandish them (or at least you'll look fast enough).
Here's the full story direct from Shimano:
SHIMANO UNVEILS S-PHYRE CYCLING KIT
Harnessing its heritage of innovation, engineering and technology, Shimano has expanded the S-PHYRE concept with the creation of performance cycling apparel. First introducing the S-PHYRE concept with performance footwear in 2016, the new high-performance product line now also includes a racing skin suit, short sleeve jersey, bib shorts, gloves and socks.
According to Shimano, the S-PHYRE concept has one goal: to maximize power transmission by delivering more performance per gram, cheating the air and applying linkage and movement principles in a complete system between the bike, the body and the motion of muscles. Utilizing proprietary knowledge gained from Shimano's acquisition of Bikefitting.com and performance studies with hundreds of professional riders, each S-PHYRE product is meticulously engineered to deliver numerically-proven results.
Every material sourced represents the highest quality, lightest weight options available; all in service of creating the most efficient system possible. The only Shimano apparel crafted in Japan, the skin suit, short sleeve jersey and bib shorts are manufactured to the highest standards to ensure unparalleled performance.
S-PHYRE RACING SKIN SUIT
The Racing Skin Suit's single-unit construction using second skin fabric and a variable- density weaving structure delivers better fit, better aerodynamics, less weight, fewer seams, and improved moisture management. Improving aerodynamics without sacrificing rider comfort, the skin suit features a fit more
comparable to a traditional jersey and bib short combination. Additionally, the one-piece design minimizes material overlap, providing better temperature management on hot days.
The all-new chamois features a winged design and advanced construction techniques, moving naturally with the body while delivering excellent ventilation and targeted support in the saddle.
The S-PHYRE skin suit was engineered in Shimano's innovation lab and tested in the wind tunnel to provide maximum wind resistance reduction in the riding position—saving 93-seconds over 40-kilometers when compared to a traditional jersey and bib short combination.
Sizes: S-XL | Color: Black | MSRP: $349.99
S-PHYRE SHORT SLEEVE JERSEY AND BIB SHORTS
The Short Sleeve Jersey features seamless shoulders with a 3D construction to reduce shoulder wrinkles. Anatomically placed pockets provide easy access to stashed items. A full-length zipper aids temperature regulation and discrete logos complete the look.
The Bib Shorts utilize a 100-percent engineered knit construction with an S-PHYRE graphic knit integrated into the thigh, providing an incredible second skin fit. They feature the new shock- absorbing winged chamois, integrated woven leg grippers to hold the leg more securely and inner-thigh high-thread count weave patterns for a zero-loss interface between the saddle and the garment.
Short Sleeve Jersey
Sizes: S-XL | Colors: Black, Yellow | MSRP: $199.99
Bib Shorts
Sizes: S-XL | Color: Black | MSRP: $219.99
S-PHYRE GLOVE
The short-finger gloves work as an aerodynamic extension of the jersey, minimizing drag with a pull-on design for less bulk on the wrist and a knitted construction with a breathable mesh on the knuckles.
The back of hand is made of one piece of fabric, patterned and knit in 3D. Integrated compression, dimples and mesh across the knuckles come together with a ClarinoTM palm to provide unity between the hand, glove and lever for ultimate control.
Sizes: S-XXL | Color: Black | MSRP: $59.99
S-PHYRE SOCKS
Initially released in 2016 with S-PHYRE footwear, the socks were designed to enhance the performance of the RC9 and XC9 shoes. The technical features providing cushioning in pressure areas as well as ventilation and slip resistance on the sole while the woven in ankle guides ensure efficient pedaling rotation.
Sizes: S-XL | Colors: Black, White | MSRP: $21.99
Shimano S-PHYRE skin suits, jerseys, bib shorts, gloves and socks will be available in select retailers beginning February, 2017. S-PHYRE footwear is already available in select stores. WorldTour team LottoNL-Jumbo will race in S-PHYRE custom clothing and footwear in 2017.