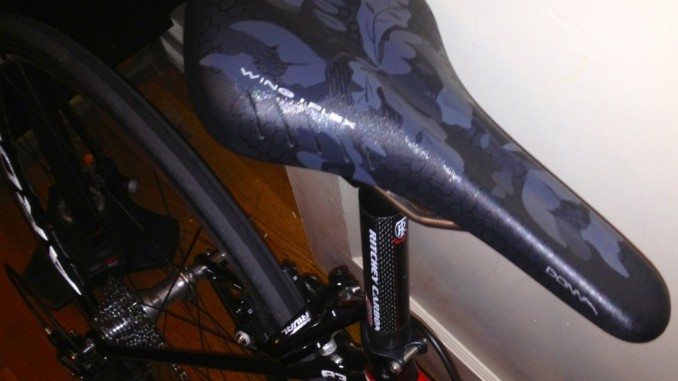 Trying to find the perfect saddle that's both comfortable and stylish? Try sifting through online reviews or eyeing the display walls at your LBS, and you'll probably just find a saddle that looks like what you want. Pop it on your bike, though, and that's it–it's not returnable. Because you can't really know what a new saddle will ride like until you try, you've gotta…well…try it.
With my first real bike, I searched the internet for reviews and ended up with a Specialized Ruby 155. So many people raved over it, and I'm sure they were telling the comfortable truth, but I ended up suffering for almost a year with an ill-fitting seat (did I mention I was too cheap to buy another one? I just decided to suffer and complain).
Thankfully, I was introduced to the test ride program at Art's Cyclery, to the rejoicing of my ride buddies who were sick of hearing me whine. For an $80 deposit, Art's let me borrow one saddle per week, and helped me lock on to serious comfort. I narrowed down features and brands I did or didn't like–channel, wing flex, widths, Specialized, Prologo, Selle Italia, Fizik–it was all as easy as riding my bike.
I ended up with a Fizik Arione Donna (which I was super stoked about except for the subtle, black floral print that I didn't notice until I opened the box. What's wrong with plain colors??? Not all girls like floral prints, guys). But I went through about 9 saddles before I landed on the Donna. The wing flex made a huge difference in the feel of the saddle in relation to my pedaling style, and it was obvious after only a few miles.
So what does it matter that I like my new Fizik? Well, it means you've really got to try before you buy. If you're local and you can check out Art's, do it! If not, call around to your local shops and see who participates in a similar program. Trust me, it's worth the effort. Plus, you get to try out a ton of gear before deciding on one.
A Few Tips:
If you know a feature or two that you really like in a saddle, make sure to mention them to the shop. That will help narrow down the list of possibilities. But don't be too rigid and keep from trying something new.
Don't let brand dictate too much in your selection. You may like Selle Italia saddles, but a Specialized fits better. Be open to a larger spectrum.
Don't feel obligated to buy a saddle that's not comfortable. As I said, I tried SEVERAL types before I decided on the Donna.
Try to ride each one at least twice to really get a feel for it–but not if it's unbearable.
If you're searching for a triathlon saddle, make sure to test it out in your tuck for a longish ride. It may feel different in a more classic road position than in the more aggressive aero position.
A Few Things to Remember:
If you're a newbie cyclist or triathlete, don't get sucked into the idea that more padding equals less pain. Super cushy saddles will actually create more friction and movement between your skin and the seat, which can lead to saddle sores. Even though a super thin saddle may look like a tortuous idea, it's actually more comfortable on serious rides.
Many experts belie the use of a cutout because it actually causes higher pressure areas, but you just need to go with what works for you.
Make sure your saddle height, angle, and fore/aft position are all correct before you try any new saddle! An incorrect fit will sometimes create discomfort that has nothing to do with the saddle shape.
Flexibility also makes a difference in saddle comfort. Ease up those hamstrings, and keep that lower back loose with plenty of rides and stretching.
So get out and have fun trying some new gear. Then reward yourself for all that exercise with a brand new, awesome saddle.
Questions? Ask away!