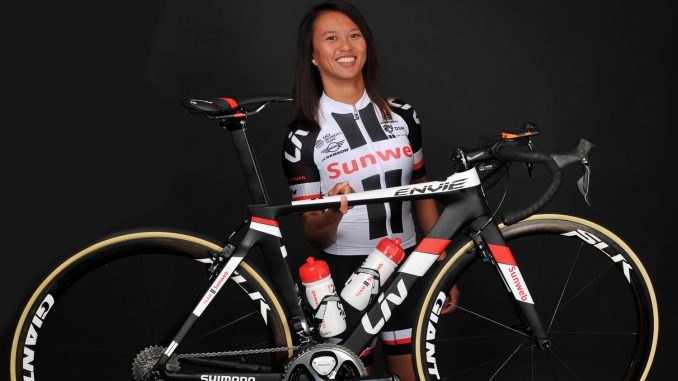 Liv Cycling Seriously Kits Up Pro Team Sunweb 
With an extensive UCI Women's WorldTour calendar on the horizon, Liv has been working throughout the off-season with Team Sunweb to equip the women's squad with cutting-edge, women's-specific bikes and rider gear for 2017.
Now, if you're wondering exactly what kind of cycling gear these pro women will be kitted out with, we got you. Because Liv is awesome, they've shared the depth of their technical sponsorship with us.
Which has me wondering if I should kick this desk and finally get into pro racing . . . because it's never too late, amiright?
The New Team Sunweb
Along with the Giant-sponsored UCI WorldTour team and men's Development Team, the women's squad will be known as Team Sunweb and will wear the new black-and-white kit with red highlights.
The two-stripe design reflects the team's "Keep Challenging" philosophy. One stripe represents the continuous development of athletes, the other represents the team's technology-focused approach to sport.
Over the past three seasons, Liv has continued to grow in its role as technical partner, working with Team Sunweb's top riders to develop bikes and gear optimized for the highest level of cycling.
When the Women's WorldTour season kicks off in early March, Team Sunweb will line up with the World Championship-winning Envie Advanced Pro aero road bike equipped with Liv's Contact SL Saddle. Riders will also be outfitted with Liv rider gear.
Team Sunweb will have an array of helmet options available to them, including the Extima, Rev Liv, Attacca and Attacca TT. With Liv also expanding its role as the team's official kit supplier, the world's leading women's cycling brand has increasingly become an important aspect of Team Sunweb's winning formula.
All right. Here' The Full Breakdown of Bikes and Gear
Envie Advanced Pro: Ridden to multiple World and National Championships, the versatility of this aero road machine challenges the limits of the aero category. From hilly road races to flat-out sprint finishes, the Envie is Team Sunweb's bike of choice for the variable demands of professional road racing.
Components
Liv's affiliate brand, Giant, also plays a vital role as supplier of handlebars, stems, WheelSystems and computers in 2017. Team Sunweb's bikes will be outfitted with Giant's Contact SLR Handlebar and Stem, engineered with ultralight, full-composite material.
The women's squad will be testing and racing Giant's next-generation WheelSystems—playing an important role in development. For training use, the women's team will also utilize Giant's tubeless-ready SLR WheelSystems and Gavia SLR tires.
New Computer
Also new for 2017, Team Sunweb will utilize Giant's new NeosTrack GPS computer (this is something we're particularly stoked to see), which offers an array of valuable functions for racing and training and will be commercially available later this year.
Helmets (They Got Options)
Extima: Extima combines the aero speed of a TT helmet with the head-cooling ventilation of an all-rounder helmet. Developed in the wind tunnel and proven at the highest level of competition, it's Team Sunweb's choice for all-around aero performance.
Rev: Lightweight, comfortable and engineered for maximum ventilation, Rev is the go-to helmet for summit finishes and long mountain stages in the Summer heat.
Attacca: This aero road helmet was developed and optimized for those crucial final kilometers. Performing its best in an all-out, head-down sprinting position, it offers superior aero performance without compromising fit, ventilation and light weight.
Attacca TT: The Attacca TT is fine-tuned through Computational Fluid Dynamics for optimal time trial aerodynamics. With national championships and Olympic medals to its name, the Attacca TT will help Team Sunweb riders shave seconds off their time trial efforts in 2017.
Saddle (They Got Option)
Liv Contact SL Saddle: After several years of testing and refining, this new saddle makes its professional debut this year with Team Sunweb. Using Liv's Dynamic Cycling Fit philosophy, which helps all riders achieve the perfect fit for body, position and riding style, this premium saddle with stainless steel rail plays a key role in optimizing comfort and efficiency for long, hard days in the saddle.
Team Kit
This year Liv expands its role as the team's official team kit supplier. Designed in collaboration with the team, and manufactured by Etxeondo, a legendary manufacturer of high-tech fabrics and racing apparel, Liv supplies Team Sunweb riders with the latest products that help advance their performance and keep them comfortable while training and racing.
To learn more about the bikes and gear being ridden by Team Sunweb, go to liv-cycling.com. And to follow the team, check out TeamSunweb.com