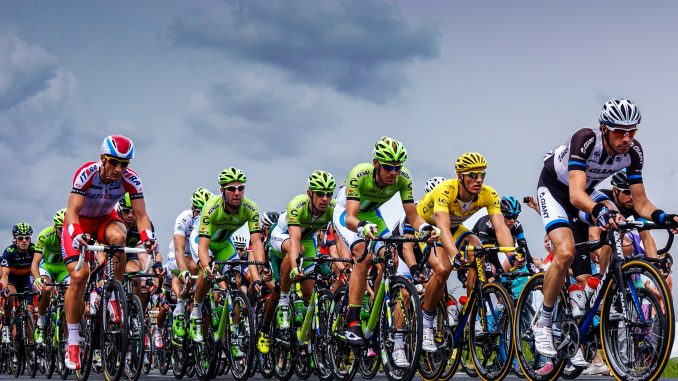 Reese: "I've been watching the pro cyclists in the Tour de France this year, and I've heard some speeds thrown out here and there, but I can't seem to figure out how fast they're really going. What is a rider's average speed in miles per hour?"
This is a popular question, Reese. In fact, you're one of about 30 people to ask us this since the beginning of this year's Tour de France. While there's not a simple answer to your question, we can break it down into a few generalities here.
FLATS
In 2015, Rohan Dennis broke a record for the fastest average speed in a time trial at 34.5 miles per hour (55.446kmph). As a rule, the pack can hammer on flats at around 26-29mph. That certainly varies, and you'll often hear Paul and Phil talk about how the peloton is moving at well over 30mph.
SPRINTS
When the pack hits a sprint finish, it can often stamp out speeds of over 40mph. In fact, Andre Greipel's uploaded Strava data from Stage 5 showed that he had to hit 43.5mph (70km) in order to win.
CLIMBS
Yesterday, Dan Martin was reported as climbing the Pyrenees at 12mph. THE PYRENEES. Based on my research, it seems that most climbs are done at around 12-14mph–and we're talking about some serious gradients and after several hours in the saddle for days on end. Of course, many of us could probably climb pretty well with all those hours put in. Except for we sprinters, amiright?
WINNING SPEED
Over the last several years, the winner of the tour has posted an overall average speed of right around 25mph (40kmph)–but that encompasses an entire tour. Uphill, downhill, time trial, flatland, it's all averaged at 25mph. A little faster than us. A little.
But that's us. How do you stack up?