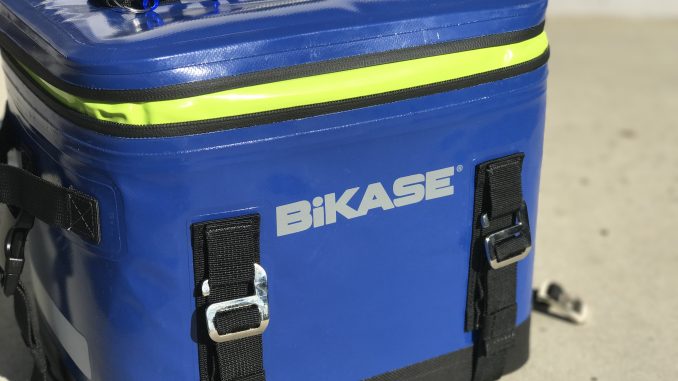 If there's one thing cyclists love it's drinking. While I personally imbibe nothing stronger than a chilled iced tea (no sugar, thanks), taking a long draught of the perfectly brewed good stuff is pretty much the most satisfying end to a long ride.
Or a short ride! Because, heck, what's more important than a short ride with lots of cool beverages tagging along?
For that, BiKASE hits another winner with its new Kickstarter project, The CoolKASE.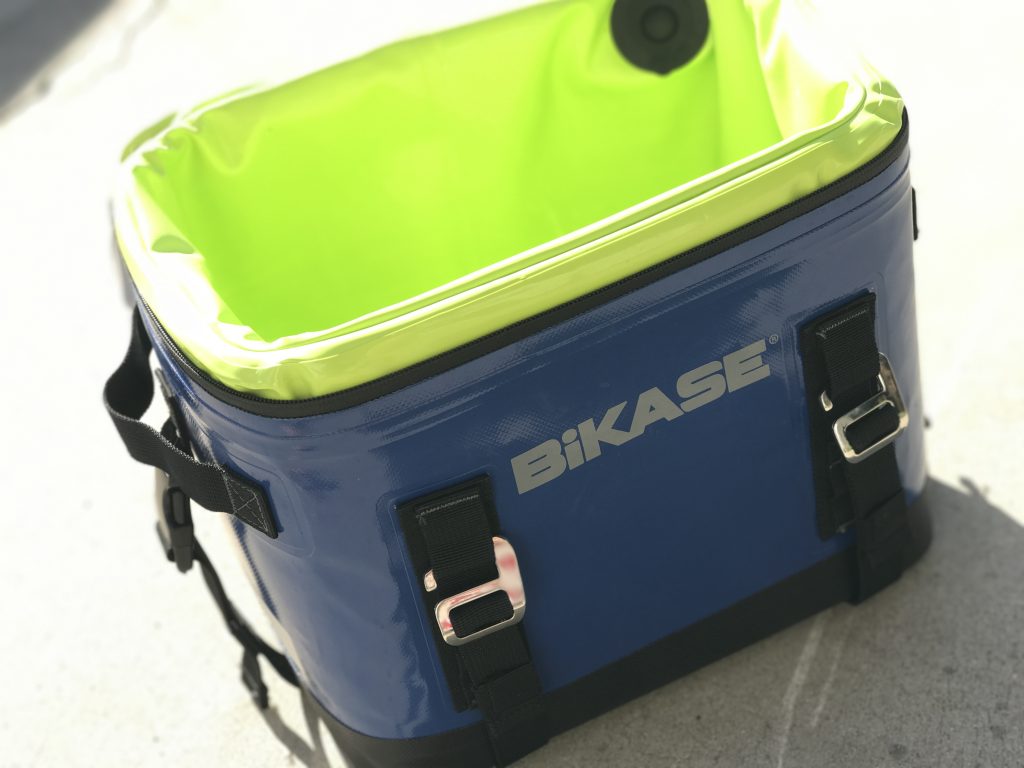 At first glance, the CoolKASE appears like any other soft material cooler–just brighter and sleeker (Seahawks fans take note). Looking closer, the design details start to be evident. It's clear there's a lot of insulation built into soft material so it's flexible but holds its shape. The material will remind you of those kayaking drybags; thick, study and waterproof. They've RF welded the seams and reinforced the grips, straps and joints to make it durable.
In more technical terms, the CoolKASE is insulated with 12mm XLPE closed cell foam for maximum insulation. The body is made with reinforced scrim material and the waterproof liner is made with durable TPU. Extra sturdy mounting straps with corrosion resistant buckles are included. The overall construction is extra durable and watertight when upright.
And all of this is seriously easy to clean.
The real Difference though is the straps and buckles that come integrated in the CoolKASE. With two straps and three slide in locations for the buckle per side it's quick and easy to secure to a bike, ATV, Kayak or whatever-you-like.
I also like the tight adjustable straps for anchoring it in my car or truck bed. Since the straps are tight to the case and adjust I can tie it to the sides or floor of my pickup bed or in our trunk and it doesn't go sliding around in transit.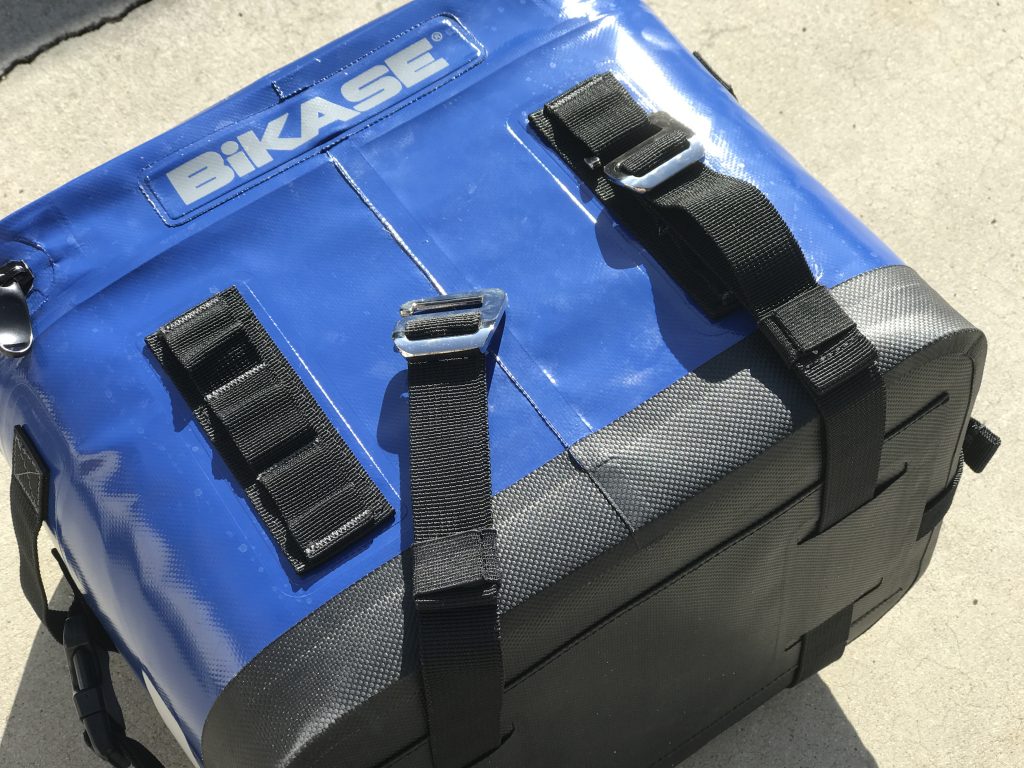 All in all I like the concept of a rigid yet soft insulated case that has solid construction and built in carry straps that are quick and secure. It's well-built and designed, looks good and has nice details like integrated reflective material.
Surprisingly solid for a soft case, the one small detail you may not like is the zipper, which can get a little tough to zip/unzip when the case is full. I actually shot a little chain lube in it to make it move a little more easily (not recommended, but, yes, it worked). And, seriously, this was the only picky thing I could find wrong with the CoolKASE.
In fact, I am just about ready to pull out that one word: perfect. Perfect for family trips to the beach, theme park, picnics, slow rides to wherever.
QUICK FEATURES GUIDE:
Price $99 for one, $179 for two on kickstarter, after launch $150 each.

Mountable to any type of rack on a bicycle, ATV, scooter, moped, kayak, or any other form of transportation

Holds up to twelve 16-ounce bottles and up to 5 pounds of ice (800 cubic inches)

Inside dimensions: 11″ x 8″ x 9″ 

Waterproof liner

Puncture resistant outer shell (made with reinforced scrim material)

Multi-use straps and hooks

Easy to clean, carry, and store

Overall construction is RF welded to make it extra durable and watertight when upright

Integrated Bottle Opener for popping open all those Made in Mexico Cokes

Reflective accents for safety when traveling at night
PRICING AND AVAILABILITY
The CoolKASE Kickstarter is now live until August 24, 2017 with a goal of shipping to backers in September. You'll also be able to grab it in September directly from CoolKASE as well. But Kickstarter backers grab a fairly hefty discount during the campaign at $99 for one and $179 for two coolers. Regular MSRP will be set at $149.99.
If you're asking, is this worth the price? The answer is a hands-down definitely. The solid construction of the CoolKASE is peerless. It took a tumble off of my bike at a decent clip–full of ice/drinks–and it emerged rather unscathed.
No leaks, solid straps, super cold drinks for more than a full day. Definitely well engineered, but we wouldn't expect any less from BiKASE.
Grab more information at the official Kickstarter page or at BiKASE.com