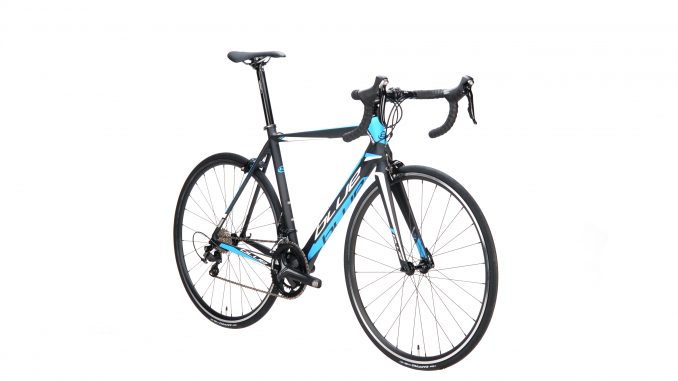 If you haven't heard of Blue Bicycles, they're about to crush every concept you had about bike manufactures–especially those based in the US. Created by coaches who were having trouble finding bike sponsors for their women's cycling team, they decided to engineer their own highly technical rides to cater to both pro athletes and lower cat racers. So, no, we're not talking about a cheap knock-off bike here. Blue Bicycles actually makes and sells their own bikes with the goal of producing fast, efficient, and wind-tunnel tested frames.
Blue Bicycles' Andaz Carbon Road Bike
I got a close-up look at the Andaz from Blue Bicycles at Interbike, and the build looks quite carefully crafted. In fact, when they told me the bike retailed for $1099, I did the old cliché jaw drop (for reals). With a Shimano 105 drivetrain, this full carbon offering sells for that of a decent aluminum ride.
Although the components are on the heavy side, Blue is calling this one, "A rider's first serious road bike." I think they've hit that exactly, and figure the Andaz will appeal to not only riders who want to put thousands of miles on their bike, but also those who are thinking of getting into racing.
With the full build coming in at 18 pounds, the Andaz sells equipped with FSA Omega cranks, Aerus alloy cockpit, Aerus allow wheelset, and, of course, full carbon frame and forks. However, dropping in a lighter wheelset and swapping cockpit parts should help it lose plenty of grams.
Unfortunately, you'll have to wait until November to snap up the new Andaz (but maybe that gives you time to start filling that penny jar on your counter with dollar bills in preparation). In the meantime, we'll be testing this one out for you to let you know exactly what we think of the handling and craftsmanship.
Built on their "Blue is Aero" philosophy, Blue bikes works to define aerodynamics, ergonomic, and materials to create what they call BlueDynamics. Basically, they're trying to build technically advanced bikes with tube shapes that work with the wind. They couple these with High Modulous carbon and proprietary layup and then carry everything over to the wind tunnel. All that means, if you haven't been taking Blue Bicycles seriously, you should definitely give them a test ride before you buy your next bike.
The Andaz should be available via your local bike shop this November (for the SLO area, that's Left Lane Sports). Check out rideblue.com for more info.