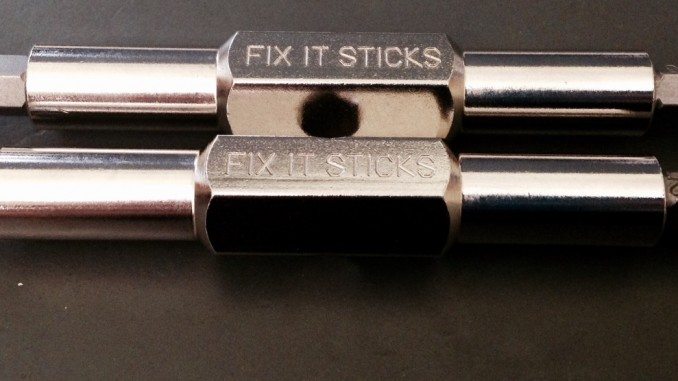 Minimalism. It's something of a trend in our sport. If you're packing light, you're going fast, right? This philosophy has forced me into carrying the world's tiniest multi-tool with four of the world's shortest and smallest wrenches folded within it. There's not really anything wrong with it. It works on some of the little repairs I need on the road. But try to adjust a saddle angle, or tighten down a loose stem cap, and my hands are left with the tiny impression of a minimalist multi-tool, and my bike is only partially tightened up. *Apathetic, yet dramatic, shoulder shrug*
But at Interbike, I was introduced to a product that would change the way I thought about on-the-road tools. I ran into the friendly folks at Fix It Sticks, and they were generous enough to hook me up with a Replaceable Edition set to test out. And oh how my snobby cycling self has changed.
Not tiny, but totally useful, this tool still only takes up a small amount of space in a jersey pocket or saddlebag. And guess what? They actually work like real shop wrenches. Portable, powerful, precise, Fix It Sticks do their job, and they do it well.
You might notice the difficulty I'm having in labeling Fix It Sticks with the plural form or singular. Well, there's a reason for that. This tool can be one wrench or twenty. Crazy, right?
Fix It Sticks Specs
Tested Version: Steel Magnetic Replaceable Edition, which includes 8 extra bits
Cost: $35.99
Bits Included: 2mm, 2.5mm, 3mm, 4mm, 5mm, 6mm, Phillips #2, Torx 25
Made in the Good Ol' USA
If these common bits don't appeal to you, you want a colorful set, or you'd like a lighter version, Fix It Sticks come in pretty much every combination imaginable. Prices range from $18.99-99.99 (yes, in titanium!), and you can do everything from picking specific bits to ordering the full complement. Check out their official website for more info on the variety available.
Review
What exactly is so cool about Fix It Sticks, and why do you need these? First off, these things are highly functional. With a simple magnetic construction, these sticks snap together with ease. They pull apart just as easily, so you can carry them side by side in a jersey pocket–meaning that you can put in only those bits you use most often on your road bike, and you'll still end up with a fairly compact tool that will pop together when you need a little torque. These basically work like that 3-way tool you find so handy in your bike toolkit, but you can pack them around without a few splayed allen keys threatening to poke a hole in your pocket or sticking through the zippers of your saddlebag.
Here's the kicker. Imagine you've got your bike in your work stand, and you're wrenching away at a multi-faceted repair. You need three unique millimeters to do the job and maybe a Philips screwdriver. Instead of filling your work stand tray with a few three-way tools and a screwdriver, you merely grab the four bits you need, pop them in the slots of your Fix It Sticks, et voila: a fully customized four-way tool that gives you just as much torque and usability as the other tools you love so much.
Useability
Able to withstand up to 40 foot pounds of torque, you can use these sticks in three different ways. First, you've got your single stick that spins easily for starting a bolt or when using in hard-to-reach and delicate carbon areas. Secondly, pop them together into the t-shape for a little more control and strength as well as a longer reach than an average 3-way tool. Finally, turn the t-shape on its side for the most power. Of course, if you've got a carbon bike be careful with over-torquing. If you hear a crack, stop what you're doing, and call the bike shop immediately. You've just screwed yourself over (that pun was free of charge, folks).
While you're working, the bits stay securely seated in their sockets thanks to the powerful magnets drawing them together. Most standard 1/4″ bits will work with the sticks, and you can go crazy customizing your own tool for any job.
Portability
I've used these both in my work stand and on several rides. Before I rode with them, I probably would have scoffed–yes, scoffed–at the extra size and weight, pulled out my minuscule multi-tool that weighs .000001 of a gram, and told you how pro I was. Well, I hang my head in shame these days because Fix It Sticks have saved me more than a few times from on-the-road repairs that would not have been easily corrected with my diminutive tool.
I like to set the tool up with the most useful 4, 5, and 6 mm hex bits plus a Philips head just in case. Side by side, both sticks take up very little space in my jersey pocket pouch
. Though they're a bit weightier than my usual multi-tool, the version I tested comes with a bit more heft than the original. Though you might want to go with a lighter option from Fix It Stick's line, these really don't make much of a difference when it comes to carrying them in a pocket pouch or saddlebag, and the extra features seem quite worth the added weight. There's really no real reason not to carry both sticks and the four extra bits in their handy little carrying case on every ride. You'll be set to fix just about anything on the road.
Pick Up Some Fix It Sticks
You can get Fix It Sticks directly from their official website, or at your local bike shop: Art's Cyclery has started carrying them if you're local to SLO. Heck, you can even get them at Amazon.com
. If you do pick up a set, let me know what you think–comment below!