If you're sick of leaving things up to chance–like keeping those new carbon clinchers attached to your bike while it's locked on to your roof rack–then grab a pair of Z-Loks, and rest a little easier.
The Z-Lok by Hiplok is a zip tie styled bike lock, which is a light, easy, and quick security measure. Insert the tail end of the Z-Lok through the mechanism, tighten to your desired measure, and BOOM. Locked. Read on for our fully tested review.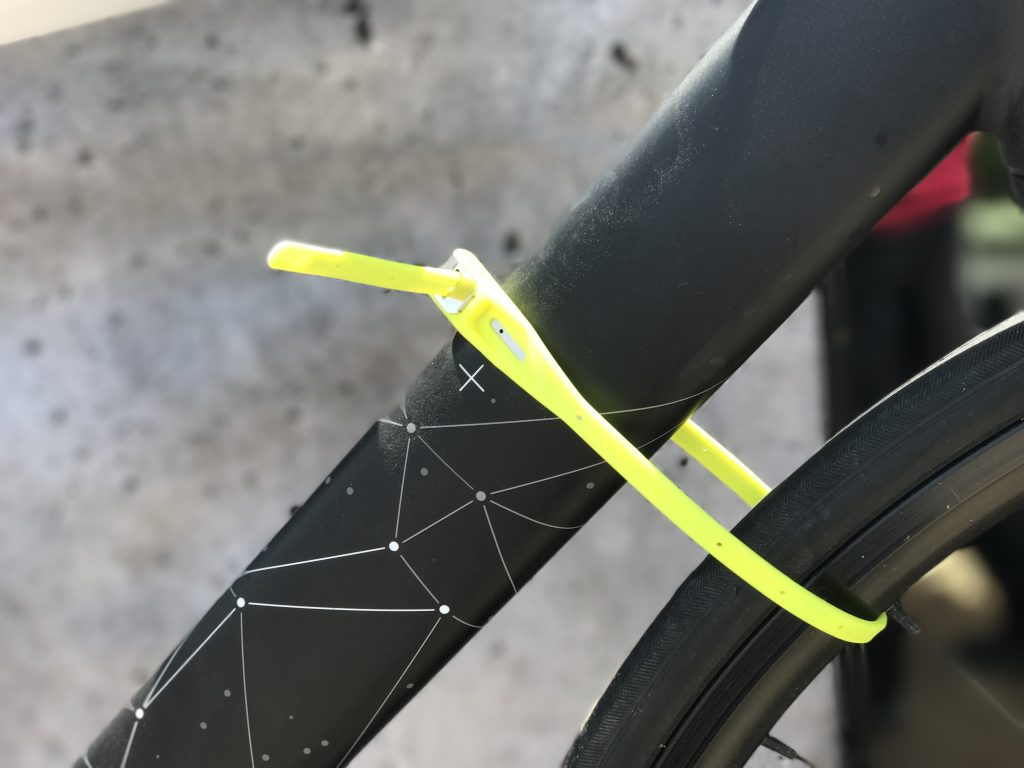 HIPLOK'S Z-LOK REVIEW
Launched at Sea Otter 2017, the Z-Lok is a reusable zip-tie lock that disengages with a simple, dual pronged key. In the package, you'll get two Z-Loks and one universal key.
Price: $20 for a 2-pack
Availability: Now at Hiplok.com
Color Options: Red, Lime, and Grey
Security Level: Basic
Weight: 18 grams per lock
Materials: Nylon outer layer reinforced with a steel core
The Review: Ultra light at just 18 grams (weighed on our own, official, Weight Weenie scale), the Z-Lok measures 40cm long and ratchets to lock in even the tightest fits. The way it works is ultra simplistic, and the key mechanism is also quite user-friendly. You can't really screw it up here.
Although the lock is reinforced with steel, this is still considered low-security. What I found most useful was using them to zip my helmet and wheels to my bike's frame for an added measure of protection, but in conjunction with another lock. The locks come in especially handy when using a car rack system–securing the wheels to the trays of the rack makes you look like you're serious about keeping your bike in tact.
It's hard to fault the Z-Lok based on its intended use, but its somewhat stiff nature makes it tough to carry in a jersey pocket. It doesn't roll up too well, and carrying it flexed is rather challenging. It definitely does better in a saddlebag where a zippered compartment forces it to hold a shape other than straight.
THE VERDICT
Despite the small difficulty in stuffing it into a pocket, I found that the coolest thing about the Z-Loks is that I can leave them locked onto the trays of my bike rack. This way, I always know I can secure my wheels whenever I decide to toss my bike on the car. The Z-Loks, coupled with the rack's internal locking system, gives me added peace of mind when I have to run an errand–or even when I'm just stopped at a light.
Overall, simple, sweet, ultra-easy to use, and not to mention darn cool.
Get more info, or grab your own at Hiplok.com