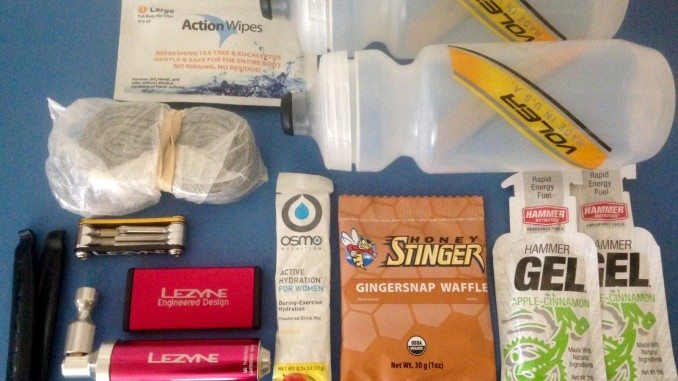 I happened across the newest video from the fellows at GCN that details exactly what you should pack for a bike ride. And like any good cyclist, I promptly disagreed with their extensive packing list. Call it the difference between Brits and Americans, or just plain bike snobbery, I had to respond with my own kit.
Packing for a ride is a personal thing. Your kit will likely look a lot different than mine. But it's always super important to be prepared for whatever you might need out on the road.
I like to pack light enough to fit everything in my jersey pockets. But lo and behold, the GCN boys throw their voices into the great saddlebag debate (not sure what I mean? Read this article on the most heated cycling debates of all time). A quick glance at all the stuff they pack along on a ride tells you one thing: although their packing seems a bit amiss or they're actually gearing up for two distances, which isn't really too clear in the video. But really, two multi-tools? I'm not quite sure what they need to fix that can't be done with just one.
As for water bottles, anyone who's hit the road for a 30-plus mile ride knows that you'll likely need two, so their use of the bottle-as-saddlebag isn't necessarily viable when you want both bottles for drink (and there's nothing quite as lousy as draining your bottle halfway through a ride). But if you didn't know this old flat-fixing storage trick, it's certainly worth learning. This is actually such a good idea that Specialized started producing the Keg with Tool Wrap to appeal to those who prefer to leave the saddlebags and jersey pouches at home.
Watch the video for yourself for some pretty decent ideas and tricks (i.e. ignore my previous snobbery):
So What Do I Carry?
Interested in my kit? I'll post it anyway.
Two bottles–generally one with electrolyte drink (I'm quite hooked on Osmo Nutrition's Active Hydration for Women in Mango, though I'm also a big fan of Fluid's Blueberry Pomegranate) and the other with plain water.
Spare tube wrapped tightly in a sandwich bag and sprinkled liberally with baby powder
Two tire levers
Smart Patch Kit
C02 Pump
Mini Tool
Single Pack Action Wipe (which works for freshening up after, but also in case of road rash)
One or two energy gels
Energy bar (in this case a Honey Stinger)
Cell Phone in a LifeProof case
Money . . . unfortunately I didn't have any to include in the picture.
But let me temper that list with a caveat. If I'm off on a long ride, I may use all the nutrition I show here. But generally, just the electrolyte drink and maybe a gel packet is plenty to sustain a good pace. And a Cherry Coke mid-ride will really stave off the bonk. 😉
What do you consider essential for a ride? Post it in the comments section!