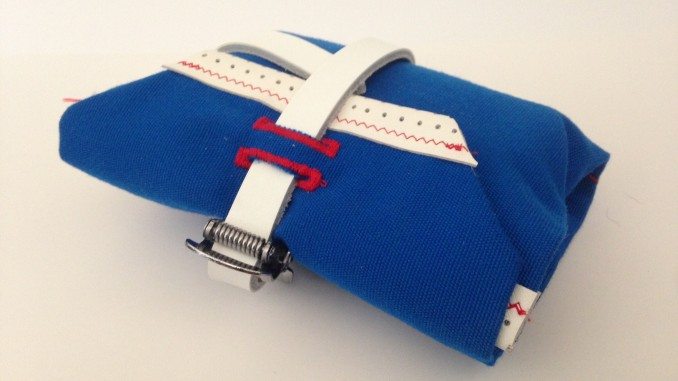 Saddle bags. My relationship with them is tense. My desire to empty my pockets of flat-fixing gear struggles against my desire to keep the lines of my bike clutter-free. Oh, internal wrestling that threatens my security in my roadiness.
But all that has changed. For now I have found the UN-saddle bag: The Jet Roll.
This new take on the classic tool wrap fits tight beneath your saddle, but it can also stow in a jersey pocket. And its ultra-thin profile makes even the snobbiest of cyclists feel comfortable with it strapped to their rails.
Thanks to the kind folks at Jet Roll, we tested both the Jet Roll II and the Supersonic over several rides, and both iterations have earned their spots on our bikes. Here's our full review:
Jet Roll Supersonic
Price: $45
Weight: 18 grams 
Upsides: Lightweight, fits all my flat-fixing tools, tube, and then some. Stays put, and looks slim.
Downsides: Not many! Although my full alloy CO2 pump didn't quite fit inside the pocket, so it was necessary to opt for a jacketed cannister and chuck.
Jet Roll II
Price: $55
Weight: 26 grams
Upsides: Same as the Supersonic, but in a super stylish color with a full leather strap. 
Downsides: The one we tested didn't have a button, so it was a bit more difficult to make sure the roll was secure. A little fiddling with the strap and the problem was solved.
I gave these two packs a thorough testing over several–and I do mean several–long rides. The Supersonic, with its ultra-light and super sleek look earned a very permanent space on my Cervelo. But perhaps the coolest thing about the Jet Roll is that each is made by hand in the good ol' USA, so not only is the quality of the construction top-notch, it also comes in a variety of colors to match anyone's taste. I was pretty high on the blue and white styling of the Jet Roll II (pictured).

Also, and I'm not sure why I never thought or heard of this before, the folks at Jet Roll included one of those superfluous and plentiful giveaway silicone bracelets as a band for your tube. Genius. Although, my trusty rubberband seemed a little confused as to why we were parting ways after so many years together. Progress, baby.
The Details
A new play on the classic, and highly useful, tool wrap, the Jet Roll lets you fit all of your flat-fixing gear (and then some, depending on how bulkily you want it to sit under the saddle) in three neat pockets. I was able to fit a tube, patch kit, multi-tool, two tire levers, and CO2 pump in the wrap easily–keeping the size still sleek and small.
When I faced a small learning curve with the proper strap placement, the roll slipped out a bit, and, since I was on a long and fast-paced ride, I quickly stuffed it into my jersey pocket. It rode securely there with less bulk and discomfort than my usual jersey pouch.
The materials are high quality, and the body of the roll is made with super thick, super heavy duty material to make sure that what you put in the wrap stays in the wrap. The finishing touches are extra durable, and the edging and straps are built to withstand plenty of stress. In short, this thing should outlast your whole stable of bikes. Definitely, in my opinion, worth spending $45-55. Plus your coolness factor will raise at least 15 degrees. Guaranteed (OK, that's not an actual claim from the manufacturer).
A Tip or Two
Take the time to get your Jet Roll set up properly before your first ride with it. Don't make my mistake and hastily strap it to your saddle rails, call it good, start pedaling furiously, stop mid-ride because it wasn't good. Read the instructions and make certain that the strap is both properly positioned and properly tightened. Also, the leather straps–which came on the Jet Roll II, the Supersonic has a synthetic-type strap–may stretch at bit with use. It's a good idea to just quickly doublecheck its tightness before each ride.
The Verdict
Because I'm generally a hater (of saddle bags, folks, of saddle bags) I've officially labeled Jet Roll the UN-saddle bag. Low profile, sleek, different, and full of cool, Jet Roll is one of my favorite pieces of kit. No lie. I'm sold.
If you want to get yourself a Jet Roll, and I have to say I highly recommend it, head over to justenoughtools.com and take a look at all the options, colors, and makes available.