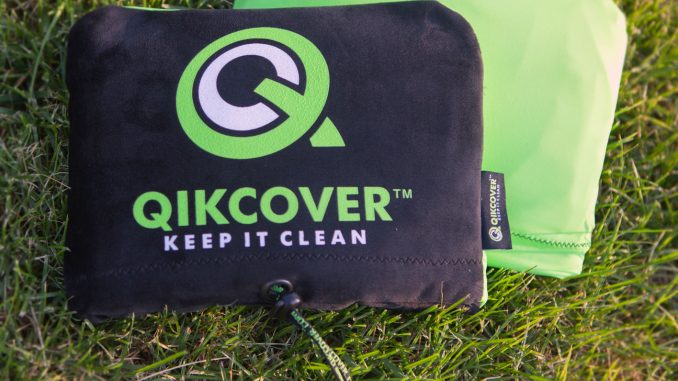 Funny how things work. I was volunteering at a Take A Kid Mountain Biking event and ran into the folks from Qikcover. We got to talking and of course I mentioned my gig here and now you all are about to read a review.
QIKCOVER Vehicle Seat Protector Features
The key with the Qikcover is its waterproof, dual layer construction that is soft on top yet keeps mud, muck, sweat, etc from getting through to your car seats. Fold them into headpiece cover to make for a easy storage in your kit bag–great for racers (I'm lookin' at you, 'Crossers) who don't get a chance to clean up before heading home.
Wash them by simply tossing them in your washer/dryer and pack them up again. Simple. One size should fit about any bucket seat.
MSRP is $39.99 | Buy it online at www.qikcover.com
The Review
As you can see from the above image, this thing packs down really small also so it would fit right under your seat when you aren't using it. Part of the back story on this product, the folks that developed this are also cyclists. They noticed that everyone seemed to just be using old beach towels to sit on after a ride, the same beach towel that usually everyone just wiped down their dusty legs and sweaty bodies with which of course does nothing to really protect your car seat on the ride home. Thus, the Qikcover Vehicle Seat Protector was born.
The Qikcover Vehicle Seat Protector installs as easily as advertised. I've washed the Qikcover Vehicle Seat Protector and it held up well.  It isn't hot when you get back in your car at the end of the work day and has protected my seat well so far. Being very picky here, it would be awesome if it had some sort of anchor you could attach to the bottom of the seat to hold it in place, but, to be fair, it wasn't developed as an everyday cover, but I've been using it as one because I like it.
Get a good idea of how it works via the video below:
Overall, I really like this cover and am definitely going to get a couple for the wife's car and the passenger seat in my car. You all can get more info or grab one for yourself at www.qikcover.com