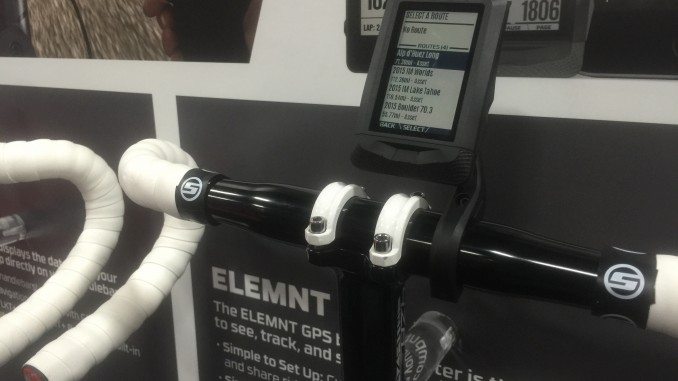 Freshly announced today at Interbike 2015, Wahoo is releasing its new ELEMNT GPS bike computer later this fall–shipping in November to be exact. We saw a demo of its functionality, and it seems that the only thing this computer can't do is feed you snacks mid-ride.
 Available for $329, the ELEMNT also comes with 3 compatible mounts (yep, 3 mounts are included in the box for pretty much whatever position you want: aero bars, out front, and on the stem) and synchs with Wahoo's free app for a fully wireless interface.
If you hate the hassle of setting up the fields on your computer, Wahoo has based this puppy on the "zoom" idea, so instead of assigning each page with fields you can see more or less data based on how far you zoom in. From 10 all the way down. Simple buttons do all the work for you with no reprogramming necessary.
But then you've also got pages. One with an elevation map, which tells you the exact gradient of your climb as well as the gradient that's coming–so, you know, you can stress out about the suffering that's heading your way. The next page shows you a map, which shows you where you are, or you can auto download your Strava routes wirelessly. If you have Wahoo's KICKR, you can also use these routes to determine your indoor ride. Another page includes your text and phone alerts.
Live tracking also adds another dimension to the ELEMNT. If you're riding with a friend who also has the ELEMNT and the phone app, you can actually see your friend on your display–fantastic for when you drop them, but don't realize it until much later (that may have happened to me on more than a few occasions). But in addition to this, the ELEMNT has quick-look LED indicators that keep you on pace while you're training to notify you when you're in the zone . . . or totally not. These are basically lights along the sides of the ELEMNT that flash to let you know exactly where you are.
All of this works with the app to share your data, customize your profiles and power/heart rate zones, and track all your stuff. Battery life is estimated at 17 hours, and with a small profile the ELEMNT is competitive at this price point.
Pre-orders are open now at Wahoo's website, and we hope to test one here in the near future to offer you our take on all these claims.
Get more info at Wahoo Fitness, and be sure to let us know if you're gonna grab one for yourself!