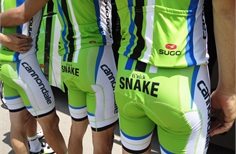 You've probably noticed the "cheeky" phrases the Cannondale Pro cycling team is sporting across their bib shorts. "I'm a bull," "I'm a snake," and "I'm a chameleon" are great hooks for Fi'zi:k's Spine Concept saddles. If you're wondering what the heck these phrases mean, well you're not alone in wondering.
Fi'zi:k has had the Spine Concept ideas in place for a while now, and they're essentially trying to help you choose a saddle based on the flexibility of your spine. The 2013 Tour de France Cannondale team is helping to spread the word about the fitting system by . . . well, spreading the word just above their saddles, but also through images printed on each team member's saddle that reflects their individual flexibility type.
How Does it Work?: With the three basic animals (er . . . reptiles)–Snake, Chameleon, and Bull–representing the classifications of flexibility, Fi'zi:k claims to help you choose a saddle based on how much you can bend your spine, land on your sit bones, or require padding along soft tissue.
Snake: The most flexible of riders who can move to any point on their saddle and remain seated on their sit bones. If you're a snake, you won't need to worry about soft tissue compression because you're always supporting your weight on your sit bones. According to Fi'zi:k, snakes should ride an Arione (which, incidentally, I ride myself–and I love the saddle).
Chameleon: These less flexible riders can adapt more to saddle shape, so they should ride the Antares
Bull: These riders are the least flexible, and therefore need more cushion for soft tissue area as they roll forward on the saddle. Fi'zi:k recommends the Aliante 
For basically the same information as I've just laid out here, check out Fi'zi:k's website
But really, the coolest saddles are the Kurve Snake, Kurve Chameleon, and Kurve Bull.
These saddles not only allow you to select your flexibility level, but also they offer more options for firmer or softer flex in the saddle itself. With the "tuner insert" you can simply swap out a simple screw-in insert to change the play on the saddle. Plus, with wing flex that allows for greater range of thigh movement, and the Flex Dynamic Interface, you've got a huge range of choices between the three offerings in the Kurve line.
If you're looking into the Fizik (yes, I spelled it wrong on purpose there) line, don't forget to see whether or not your LBS has a test saddle program, so you can try them before you buy them. Although Fi'zi:k offers a kind of simplistic, "can you touch your toes, and if not how far can you bend?" fitting idea, it's a great idea to try out even the most customizable bike saddle.
Browse the Fizik Curve options–the white ones are looking pretty cool.
Or head over to my LBS,
Artscyclery.com
for in stock Kurve saddles!
Any of you already own a Kurve? Or another Fi'zi:k saddle? How do you like it? Comment below on what you think of the Spine Concept system?