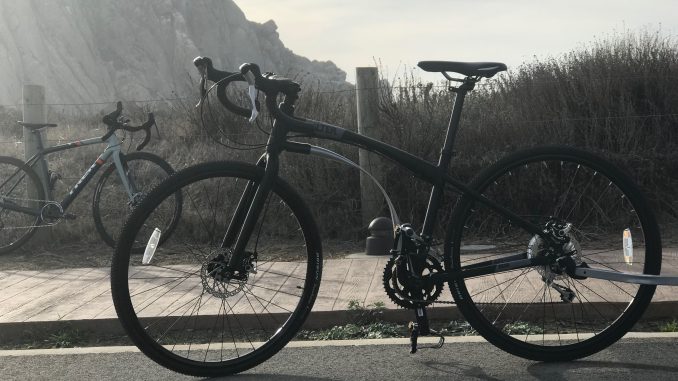 When we first met the kind folks at Alter Cycles back at Sea Otter, a quick look at their unconventional bicycles didn't convince us that all the marketing claims could be true. It only took one lap around the festival to show us that this bike has something special going for it.
This design is truly new technology that has a combination of benefits found in no other bike at any price. Alter's Reflex frame absorbs shock through an exclusive proprietary motion Alter engineers call Linear Flex. This is a stretching of the frame and wheelbase as you encounter bumps and dips that keeps tires on the ground better as well as smoothing the ride without bobbing up and down.
So we happily agreed to give the new road bike iteration of the Alter Cycle a thorough test and review–a few months out from getting the new Route 400, and we're more than convinced. This bike handles just about everything you throw at it while making the road feel smoother (even gravel roads), hills easier, and generally giving you more bang for your pedal stroke buck.
Add in the budget-friendly price for a new one, and you've got a total winner in our book. The Alter Cycle stood up to just about everything we threw at it.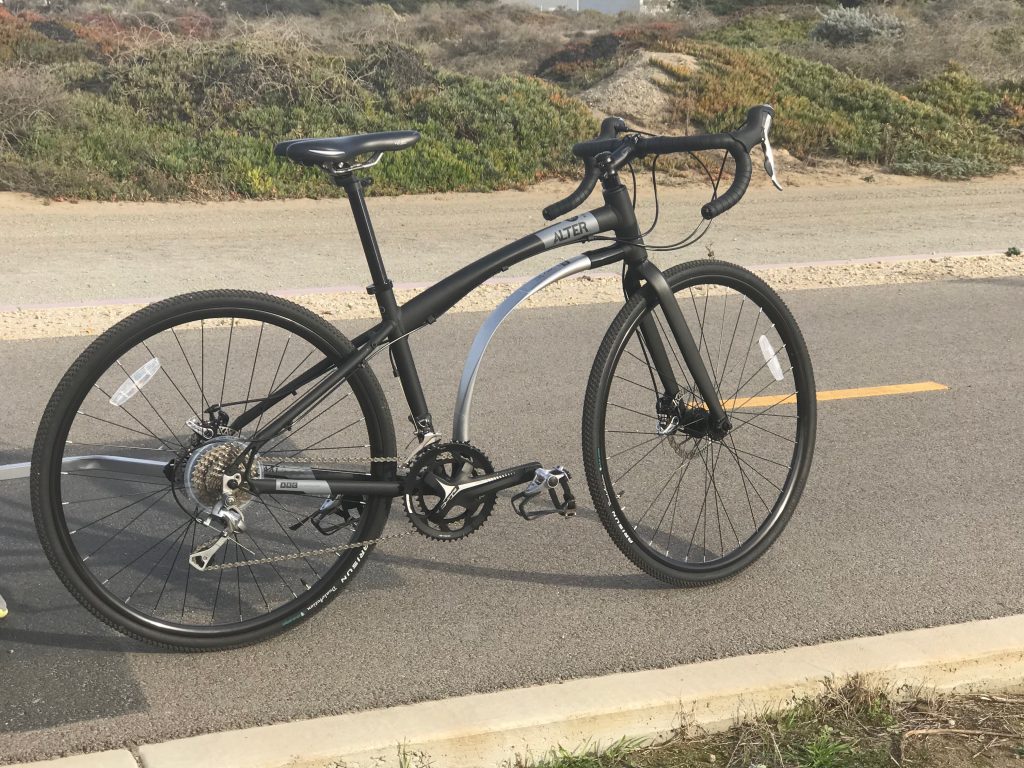 ALTER CYCLE ROUTE 400 ADVENTURE BIKE REVIEW
What the Route possesses is an uncanny ability to continually stand on giants' shoulders. Meaning that it takes proven technology and makes it better. The flexible and interchangeable downtube (with various colors and rigidities) is something of an engineering marvel that really does give when it's supposed to and stores up energy when you want it to.
This is an appealing bike for anyone who wants to hit the road without feeling the road bumps as much. It's a great all-around bike for commuting, road riding, and taking off road as a sort of hybrid road/gravel grinder. While it's not the lightest ride, our demo bike had wheels that were quite heavy, and the frame itself is not a featherweight, but the mechanical advantages in the power transfer, and its smoother ride more than make up for a little weight.
We were quite surprised by its ability to climb, and its relatively nimble handling even with its relaxed geometry. The energy store and release ability made us dream of the possibilities of a light-weight, high-end spec model. That could be a total game changer.
The particular model we rode won't be available for a while, at least as a complete bike. The Alter rep however, told us they've got a small shipment of frames in, so you can pick one up and spec it just the way you want. The cost for this frame and down tube of your choice is $650.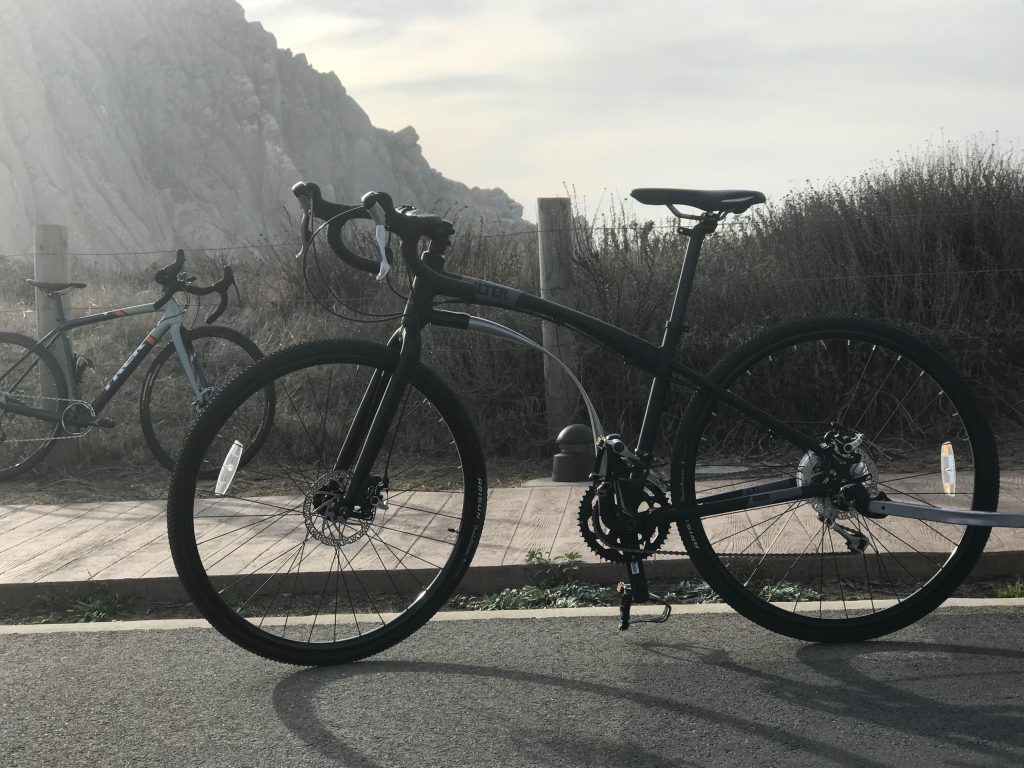 TECHNICAL SPECS
The bike we tested came with Alter's most flexible #1 downtube. Alter calls them Rider Fit Tubes (RFT) because they are selected for your weight. The #1 is the most flexible, in fact it is only a few pennies thick in the mid-section. You are tempted to give it a flex before you install it on the bike. If you do, you run the risk of putting an unrepairable kink in this hi tech tube which would cost you $99 plus shipping for a replacement.
So, yah, don't play with it off the bike. On the bike however, it won't over-flex and the Alter offers a lifetime frame and downtube warranty.
The road dampening effect of the frame is very noticeable and leads to a super smooth ride. In comparison to the #2 RFT, designed for heavier riders, the ride is much softer. Our tester, just under 200 lbs. much preferred the #1 for its supple feel. There are 3 flex level of RFT's. #1 for riders up to about 200 lbs. #2 for riders up to 250 lbs. and #3 up to 290 lbs. These are the same tubes just flattened to different levels. Nice to be able to tune your road ride.
The bike we tested came spec'd out with a Shimano Tiagra groupset components with Tektro disc brakes, FSA Omega crankset, and some cool knobby Arisun tires. However, according to Alter, components on the complete bikes are expected to be at two price points that are not yet finalized.
The frame allows for wide tires, up to 45 mm, with options for mounting fenders. That makes for a serious all-rounder in most weather conditions and off-road.
HOW DOES IT COMPARE TO OTHER BIKES?
This is the question we've been asked the most. And this bike is definitely a head-turner. Most people who've stopped us while out riding have been curious about what it does and how it stands up to other bikes. In short, it holds its own. But its a bit more complex than that.
THE UPSIDES
The Alter Cycle Route 400 is just what a road bike should be: smooth, responsive, powerful. It definitely creates less fatigue in your legs when compared to bikes of similar weight/components. The flexible downtube delivers on its marketing claims, and really does work like a spring releasing a store of energy with a Rebound Boost when you need it most, near the bottom of your power stroke.
Our testers found this means the ability to climb longer before downshifting and sometimes even upshifting a little sooner when cresting a hill; this is perhaps the most surprising thing about the bike. It will keep you riding longer and likely feeling better at your rides end.
As we said before, you'll also notice a lot less road buzz. Even with its aluminum frame, this dampening effect is very noticeable. Cushy, with firm and predictable handling is really its top adjective with comfort being set to a very high mark.
The somewhat upright positioning also helps to keep riders from fatiguing as fast, which makes for an overall high endurance factor when you couple it with the aforementioned technology.
Off-road, it's a solid contender on gravel rides with relatively grippy tires that can take you onto most trails without worry. The ability to fit even wider ones is a definite plus, and the disc brakes have plenty of stopping power.
THE DOWNSIDES
While we don't really ascribe to the idea that lighter is always better, the Route as delivered to us was, a bit heavy. If you're looking for a lighter bike we suggest starting with the logical, lighter wheels which can be expensive but also help performance a great deal.
The bike itself is definitely directed toward the serious recreational rider, commuter, occasional trail rider, or the century junkie.
If you are planning to pack on the miles (which you should with any bike) you might consider a 105 or similar level gruppo to make this puppy bomb-proof. There's nothing inherently wrong with the entry-level components we received, but they tend to be a bit finicky
This means you will want a qualified shop to put your bike together right. We were told that Adrenalin Bike Shop in Orange, was one of the first to recognize the value in the technology and they have or will have bikes soon to test ride. The Alter website will likely be updated as west coast dealers commit.
While complete bikes like this won't be available soon, the complete Reflex 100 at $749 or the Reflex 300, which we tested in October, for $999 are out now. Convert it to drop bars and you've got the basic recipe for the Route.
As for fit, riders who want a more aggressive fit can flop the stem upside down, but we didn't play with it much as the shorter top tube design doesn't really encourage being too aero. We found that to be a little outside this bike's purpose, so it's something of a non-issue. But you can get a more aggressive position if you're feeling it.
THE VERDICT
The Route 400 makes a great choice for someone who's looking for a good commuter with long weekend rides in mind and with touring capabilities. We think it would make any weekend warrior happy–especially if said warrior doesn't want to be limited to the road.
This bike keeps up with others in its class, and should allow you to stick with your Saturday group a little easier or longer and in greater comfort; even if you still eventually end up riding alone.
Final word? A solid bike with breakthrough technology that's high on comfort, and that performs great on road or gravel.
We dig it.