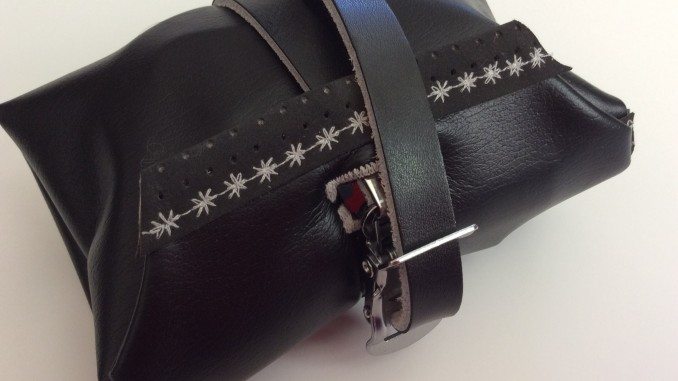 You know our chief editor has a hate-hate relationship with saddlebags, and, in her previous review of the Jet Roll II and the Jet Roll Supersonic, she labeled these new takes on the classic tool wrap UN-saddlebags. And for good reason. The versatility inherent in the design is something we think most cyclists will take to.  Thanks to the kind folks at Just Enough Tools for sending over a Phantom for review purposes, we've tested the Jet Roll II Phantom.
With a quick and simple installation process and the ability to just roll up your kit and stick it in your pocket, we think the Jet Roll is an accessory every rider needs. And the Phantom marries serious bling with absolute quality.
Jet Roll II Phantom Specs

Materials: Ultra High Grade Synthetic Leather body (meaning it stands up to beating) with a Swarovsky crystal button.
Price: $75 and also comes with a Free Jet Roll II Supersonic (check out our review of the Supersonic)
Colors: Black (tested), Cream, Copper, and Ti
Upsides: Made in the USA with attention to detail, and high quality materials. The synthetic leather can stand up to just about anything (I dropped it from a few times on a gravel road, and it brushed off and remained unscathed), and it offers more flex than other Jet Roll models. Which means you can stuff it pretty full if you so desire.
Downsides: Make certain that you attach the strap properly by holding the Jet Roll tightly against your saddle's rails. Then pass the strap around, through the button hole and around on itself again. If you don't, the strap can flap loose and then buzz on your tire or hit the back of your leg as you pedal. Not really a problem, but it can be a bit annoying.
The Review
Whether you like saddlebags or carrying flat kits in a jersey pocket, the Phantom is a somewhat bomb proof solution for keeping everything together. Although we weren't able to test it in the rain (blame the drought in California these days), it holds up well against sweat when kept in a jersey pocket. The contents stay dry, which means that money or cards won't end up soggy and gross.
I found the Phantom to be easy to install, but make certain you tighten the straps down properly. The spring closure will grasp the strap tightly, but you'll need to ratchet it down to make sure that the roll doesn't slide on your seat post. Of course, if you're just tossing it in your jersey pocket, no strap is necessary. The button is rather large and with pretty cool, crystal detail for just that little added bit of class, and it keeps the Phantom closed. A pretty quick unbutton and unroll and you're able to get to your kit with ease.
What Fits?
The material of the Phantom is a somewhat stretchy synthetic leather that allows you to pack it pretty full.  I was able to fit a rolled up tube (tightly held by Just Enough Tools' ingenious little band), two tire levers, a patch kit, C02 pump with chuck, multi-tool, cash, and ID in a relatively compact roll.
Readers have asked us if the Phantom would be a great place to fit a cell phone. The wrap is just a little too short to fit an iPhone 5 in. It definitely won't fit my massive iPhone 6. But there may be enough space for other phone models if they measure smaller than 5×3 inches. But the purpose of the Phantom isn't necessarily designed for phones.
The Verdict
We're big fans of the Jet Rolls here, and they've made their way onto our bikes and into our jersey pockets for good. They're simple, easy to use, and just plain cool, so we think they'll suit most riders. Plenty of color options and sizes also means you'll likely find one that suits your style. And the hand-made quality seems consistent with each model we've tested, so we're happy to recommend the Phantom. Plus, the fact that it comes with a free Supersonic means you can carry two or share with a friend. We think that's a pretty sweet deal (and, no, we're not being paid to say that).
Pick up your own Jet Roll II Phantom at justenoughtools.com