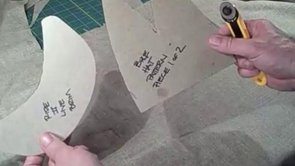 Every cyclist needs a cap to go along with their kit to make them completely legit. Plus, it's always (well, usually always) fun to make crafts that go right along with our passion for bikes. So, make your own cycling cap! Although I'm a relative newbie to sewing machines–missing my master-seamstress grandmother these days–I've found a rather simple projects that even I can do. The fellow at Dude Craft has a fantastic tutorial that takes you step by step through the process of cutting the pattern, sewing the hat together, and products for the bill. You can even take an old shirt and give it a new, more exciting life as a cycling cap.
When you've got your cap created, try screenprinting it! The process is the same as for a t-shirt, but with greater possibility. I'm planning to DIY a few and stamp some SLO Cyclist logos all over them. It will definitely make me look cooler. 😉

If you decide to try this, comment with pictures showing how your project turned out!