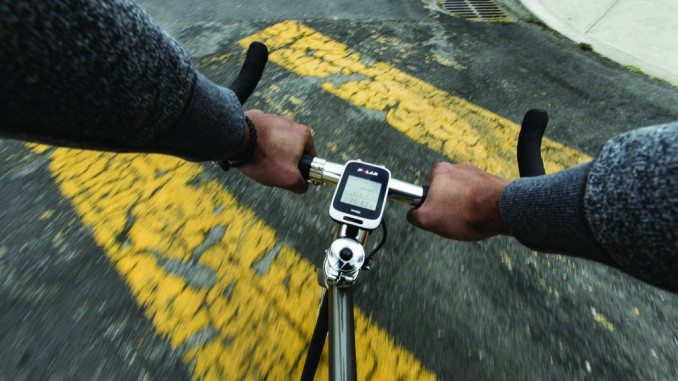 Last week at Interbike we previewed the latest cycling computer from Polar, the M450. In fact we were so interested to take a look that we made the crew at Polar cut their lunch from Subway short. Unfortunately, we can't vouch for whether or not they were still stoked to eat those subs after they sat for 45 minutes, but we were stoked to see the new offerings from Polar. Though we probably do totally owe them lunch sometime.
The M450 is their latest computer featuring integrated GPS technology as well as power, cadence and heart rate capabilities through its Bluetooth Smart Sensor Support. The barometric altitude technology also figures to provide more accurate data as you climb and descend than straight GPS mapping. Designed to support all riding styles and goals the M450 also includes a smart visibility LED light built into the unit for those times you're caught out at dusk. And the routes also offer a Back To Start feature that guides you back to your starting point.
Regardless of your goals, the M450 adjusts to individual metrics and generates personalized feedback. By entering training background, current physical condition and completing Polar's fitness and orthostatic (fancy word, but key) tests, the M450 gives you personal guidance to optimize your training for peak performance.
Customizable views on the M450's display let you choose the information you want to see, and interchangeable back covers in three colors lets you match the unit to your bike or kit. For more in-depth data such as live power, cadence and heart rate readings, you can pair the Polar M450 with Bluetooth® Smart accessories such as Bluetooth ready power meters, cadence sensors and heart rate monitors.
Depending on the level of training and accessories you plan to use, the M450's Smart Coaching provides training guidance, including detailed analysis of training load and recovery time via the Polar Flow web service and app. The site and app should also help keep you connected with social media friends and the all-knowing Strava (a feature available in October).
The Polar M450 Specs:
Weight: 51g
Display Size: 3.5cm x 3.5cm
Thickness: 14mm, with mount 19.4mm
Splash Proof
Flash Memory: 64Mb (about 35 hours of recording
Battery should last about 12 hours of training per charge with heart rate and GPS active
Tech:
High precision barometer
Sensitive and accurate GPS
Wireless syncs via Polar Flow app with Bluetooth Smart
Micro-USB charging and sync
Updatable software
The Polar M450 is available now for $169.95 and $199.95 with Polar H7 heart rate sensor. You can also grab those snazzy interchangeable covers for $14.95 in red, yellow, and black at Polar's website.
We'll be reviewing this computer in greater depth in the next few weeks, so be sure to check back to see just how well the new Polar M450 performs.