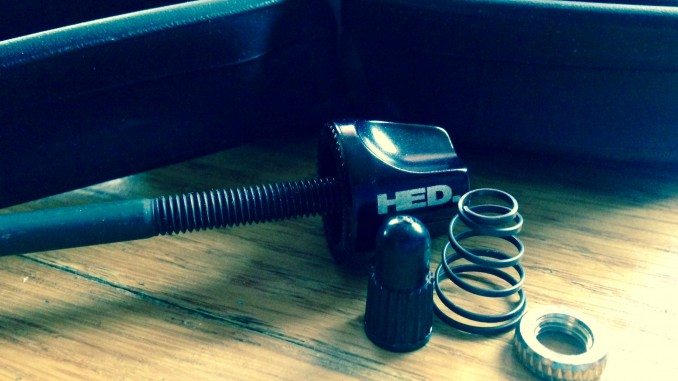 Ryan: "I was riding with my buddy, and he said he doesn't use tubes in his wheels. So what the heck is a tubeless tire, and why doesn't he need tubes?"
Great question, Ryan. Lately, there's been plenty of debate on the pros and cons of tubeless tires. But I'll get to that in a bit. First, to your question. A tubeless road tire is basically what it sounds like: a tire that doesn't need a standard innertube. Instead, it fits quite tightly on the rim and uses a sealant to keep it filled with air. Basically, it's similar to the tires you have on your car–they just fit on the wheel and you can pump air into them.
The great claim to fame for tubeless tires is that they are much more flat resistant–virtually eliminating the problem of pinch flats, even when you run them at a lower pressure. Plus, if they do flat, you can always stick a tube in and be on your way in exactly the same way as you would with a standard tire. The founder of Stan's No Tubes says that he's ridden for four years solid without a single flat. Now that's a serious streak.
But some riders don't really care for the feel of tubeless tires since they're generally a bit stiffer and have less feel in cornering than standard tires. But it really depends on the type of riding you do. I'm sure it comes down to personal riding style and preference–just like the majority of cycling gear. Because, on the other hand, some folks really love them and argue that they have a great deal less roll-resistence and a better response to accelerations. It seems you've just got to try them for yourself to see.
You can actually convert to a tubeless tire system with your existing 700c clincher rims. You'll just need a set of tubeless tires and a kit to seal up your rim, the conversion process for which you can also check out through Stan's No Tubes.
Before you buy anything and start gooping up your rims, you should check with your wheel and tire manufacturers to make sure they're ok to convert. I've never done the conversion, but I do have a friend who swears by her tubeless tires. If you try it out, let me know! Heck, maybe your buddy will let you swap wheels with him on your next ride, eh?
Got a burning question? Send it over to me, and I'll answer to the best of my ability. Because it's important to remember, there are no stupid questions. And anonymity is really cool too.