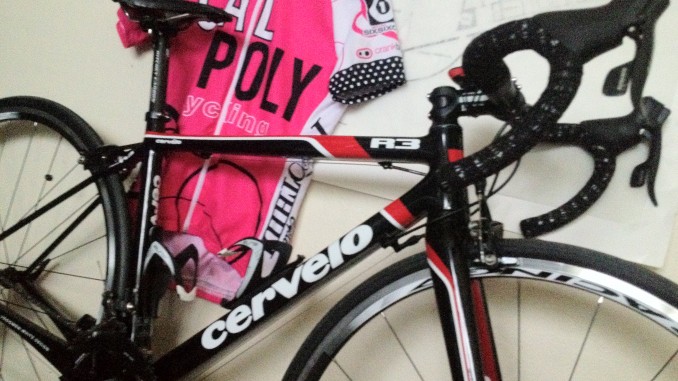 Perhaps you've seen people riding along the highway in their colorful kits, pedaling away in the sunshine. Or maybe your friend brought you along to a local triathlon, and you wondered why all the racers seemed so excited to swim, cycle, and run. However you fall into the sport, you'll find that it comes with a great deal of passion and enthusiasm for all the gear you can collect. But how do you know what's going to work for you, and what might just end up sitting in your closet until your next yard sale? In this series of posts, I'll go through the best buys for beginners and beyond, so you don't waste time and money.
What Bike (Not) to Buy
So you're ready to make that first big purchase: a bike. Get excited because bike shopping is the coolest experience ever. You actually get to ride as many of those bikes on the racks as you want–and they are happy to let you do it too. First things first, before you start your search for a new ride, wear closed-toed shoes and comfortable pants/shorts that offer plenty of flexibility. Also, be sure to bring your ID along in case they want to hold it while you take off with their expensive inventory.
I must note, also, that this post assumes you are buying a road bike. Let me rephrase that: you will buy a road bike. Don't bother with hybrids, flat bars, or anything else. Why? You will one way or another probably end up on a road bike and wonder why you wasted all your time flatlining on a cruiser. If you're worried about riding in drop handlebars or being bent over too far, let me assure you that you can customize the fit of your bike to accommodate back pain or other issues. Although it's generally faster to be lower, you can certainly ride just as upright on a road bike as many other styles. Plus, you'll have plenty of options to change positions when you do gain the flexibility and courage to ride in the drops–simply swap out a stem et voila, you're good (well pretty much 🙂 ).
Buying New:
What type of bike you look for depends on a few factors: how much money you have, and how much you'd like to grow into the bike. As long as you can afford it, I would always recommend you buy a new bike from your local shop–that means a real bike shop and not Target or Walmart (trust me, those bikes are terrible, horrible, and awful, which is why they're so cheap. Don't waste your money). If you're here in SLO, I suggest Art's Cyclery because they have a wide selection and great prices. Also, when you buy at a reputable bike shop, you'll almost always get perks like a free fit, free tune-up, and free bottle cages/bottles. These are excellent things, especially when you aren't sure how high to set your saddle, or whether your stem is too short. Also, at Art's, you usually get 15% off anything else you buy the same day.
Buying Used:
If you do buy used, watch out. If a deal seems to good to be true on Craig's List, it's probably stolen. Plus, you don't know whether a used bike has been crashed, abused, or rarely cleaned. If you do go this route, check the frame and components carefully for cracks, scratches, or anything that seems jankie. Run through the shifting several times, and check for clicking (especially in the rear derailleur as that might indicate a crash and bent hanger) or slow shifting. Be sure to ride the bike and see how it feels and fits. Also, while I'm not advocating profiling, take stock of the person selling you the bike. If they seem like a trim cyclist, or maybe someone who bought the bike and just didn't get into the sport, it's probably fine. But you never know. Always stay safe, meet in a public place, and don't give out personal information. Ask yourself a few questions: Does the bike seem to fit the person selling it? Has the steerer tube been cut low or not? Also, if it comes with pedals and a saddle that seem like someone chose them, that might also be a good tip-off it's stolen. Most people will keep their saddle and pedals when they sell the bike.
If you're searching eBay for deals, just be certain you're getting a nice, well cared for bike. Be prepared to assemble it when it arrives in a box, and have it checked out by your local bike shop mechanic to make sure it's safe and running smoothly. Also, make sure you're in the right size. Measure your inseam and match it up with the standover height on the top tube. You'll want a little clearance as well. Generally, if you're between two sizes, go with the smaller frame. This should offer you better control and handling. For instance, I could ride a 51, but I opted for a 48. All in all though, by the time you pay for shipping, assembly, and wait a week for it to arrive, you might just wish you had gone to your local shop and picked out a good deal.
Aluminum or Carbon?
So you've found your local shop, and you're all set to hop on some bikes. But what the heck are you looking for? Well, that depends on a few variables as I said before. If you're brand new to cycling, it's probably best not to jump in with both feet over that carbon frame. With an aluminum bike, you'll have more leeway to account for that learning curve. And you won't have to baby your bike quite as much–although that will happen either way.
What to look for in an aluminum bike:
Brands! The answer here is to ride all the brands. In general, stick with a name that you've heard of–Cannondale, Trek, Giant, Specialized, etc. These are, for the most part, well made bikes that will get your started in the sport with a range of feels. Don't be afraid to buy the previous year's model, or a bike on sale. There's absolutely nothing wrong with it, and it will be very much up to date.
Components! Although you're perfectly welcome to start out with Shimano Sora or SRAM Apex (both the lowest end), you'll find they don't often work as reliably as Tiagra/105 or Rival. Going much higher than these groupsets, however, on an aluminum bike is pointless because really what you get in the higher end Shimano Ultergra/Dura Ace or SRAM Force/Red is more about lighter weight, and aluminum is heavy. My first aluminum bike had a mix of Tiagra and 105 components, and I never, ever had trouble with them. Choose a bike that has as close to 105 or Rival as you can get, depending on which brand you prefer.


As far as the difference between Shimano and SRAM, I can't really make a recommendation here. I've used both, and although I'm not a fan of SRAM front derailleurs, I like the feel of the shifting. But Shimano seems a bit more bombproof. It really comes down to trying them both and choosing what you like best. People swear by either brand, so you'll have to decide for yourself. And if you like Campagnolo, go Campy. You'll learn the brand you like the best if you try them all. 

As far as other things, whatever stock items are on the bike should be fine if you're a relative beginner. You'll probably end up swapping out the saddle for one you find more comfortable (keep a lookout for my next posts in the series about how to choose a saddle!), and you'll eventually want clipless pedals. If you're really new to the sport, keep those strap pedals, and ride with your regular shoes cinched down tight. But you'll notice a huge jump in power when you get into a stiff sole and clipless system.
Another reason to buy new–and probably on sale–is that when you've gotten too fast for your aluminum bike in a year or so (or maybe you just want to feel faster), you can probably sell your bike on Craig's List for as much as you bought it for (or more, if you play your cards right 😉 ). But this is also a good reason to keep it clean, lubricated, and in good repair.
You should be able to pick up an excellent bike for under $1,000–even as low as $500. Just make sure it has the components you want, and you'll be very happy with your purchase. Well, until you start dreaming of carbon bikes . . . .
Pros of Going Carbon:
You will grow into the bike, and have a fast ride

People will compliment you (if you're into that)
You can skip the inevitable step of selling your aluminum bike to upgrade for a carbon one
You can get an aero frame or TT bike if you're sure you'll want it only for triathlon
Cons of Going Carbon:
If you're just starting out, and you're still working on consistent speed, people will probably think it's funny you're on an expensive carbon or TT bike

You'll need to know how to take care of it properly–don't over-tighten screws, don't clamp the seatpost too tightly in a workstand, etc.
You don't really need a carbon bike if you're trying to lose weight–I always say, I can't lose weight on my bike until I lose weight on my body
It's a lot more expensive
You'll really want to start on a clipless pedal system. Otherwise, well, you'll kinda look silly.
Reminder:
If you do go carbon, try to stay under or near the $3,000 mark. Anything much more expensive is less bang for your buck. You're really just buying lower weight. Also, be sure that you get vinyl protector stickers (only a couple of bucks) to keep the cabling from marring the finish at your head tube and possibly even wearing away the carbon. A little known, but very important, item to install.
So what do you think? Off to the bike shop? This is by no means an exhaustive list, but a place to start. Still have questions? Comment below!