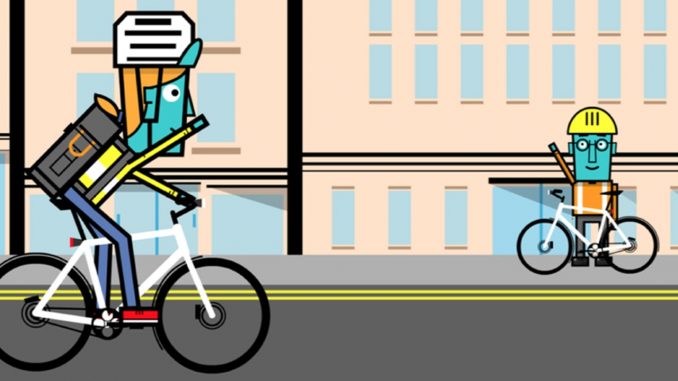 This May 10th. it's not all about KOMs/QOMs (although, every day is what you make of it). Instead, that Tuesday is dedicated to beating your co-worker to . . . er . . . I mean, showing global support for better cycling and pedestrian infrastructure. Strava's officially making it happen this bike month using the hashtag #CommutesCount.
Strava, the social network for athletes, invites cyclists around the world to join the Global Bike to Work Day Challenge, and ride in the largest bike to work day to date. On Tuesday, May 10, 2016 Strava is calling on all cyclists to upload and tag their commutes on Strava, and use the hashtag #CommutesCount on other social media channels.
Just in case you're wondering how this is all helping anything, Strava's got it covered. Strava Metro anonymizes and aggregates the millions of commutes uploaded to Strava every week, and then partners with urban planners and departments of transportation to improve city infrastructure for cyclists and pedestrians. In other words, they check traffic patterns and the like to see how we all use the roads, and how they might make our commutes easier and safer.
Gareth Nettleton, Strava's VP of marketing, had this to say about the initiative: "In almost every city, Strava has recorded more commuting and cycling transit data than the local government. Billions of data points have given us a unique perspective on how cyclists and runners move through urban areas. By leveraging the global community's activities, we can promote positive changes in their backyards and improve cycling, running, walking, and living in their cities. Every uploaded activity has the potential to make cycling better in communities all over the world. Whether you ride one mile or 50, if you bike to work on May 10th you can be a part of a global movement to make cities better for cyclists."
Of course, you can opt out of sharing your commute with the anonymous data collection, but here's one place we think that data collection is actually doing some serious good. Strava can then share that data with city planners, engineers, and other cool people to make cycling better right where we live.
How Do You Get In On It?
If you're a Strava member, simply upload your commute using the free Strava iOS or Android app, or through your bike's GPS computer (assuming it's compatible–check with the manufacturer if you're not sure). To participate in Global Bike to Work Day, simply upload rides to Strava, tag them as a commute and use the #CommutesCount to share activity on other social channels. You can also head over to the official sign-up page of  the Global Bike to Work Day Challenge for more info. Finally, you can watch this all-inclusive cartoon to get stoked for May 10th:
For more information on Strava, visit www.strava.com. To learn more about Strava Metro, visit metro.strava.com.