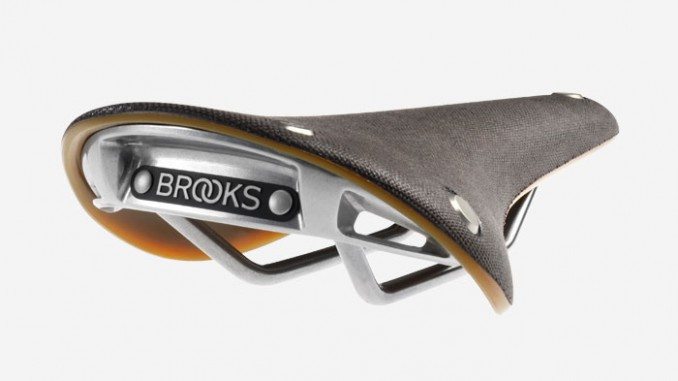 The Brooks Cambium C15, despite having been announced a couple of months ago, is still generating plenty of buzz among Brooks and non-Brooks enthusiasts. Although Brooks has released previous versions of road racing saddles, such as the C17 and C17s, the C15 is a narrower version (try a more comfy 140mm) that looks much more race-worthy. But at 405 grams, the seat still has a few question marks attached to it. It remains to be seen whether the trade-off of an immediately broken in and comfortable saddle will outweigh (I refuse to apologize for the pun) the heft of all those extra grams.
With a hammock-like construction that helps to absorb impact and protect pressure points, the C15 could be the answer for road riders who've had trouble finding a comfortable saddle in the past. The vulcanized rubber and tubular stainless steel rails offer an updated look that should appeal even to we snobby road cyclists. And I have to admit that even the classic Brooks rivets look pretty cool.
I plan to do a full review of the Brooks Cambium C15 in the next couple of weeks, so keep a watch for that. But until then, my purpose for this post is to pass along to you all the opportunity to ride a Cambium completely free of charge. Before Brooks completes their initial run of only 2,000 C15s, they're giving out 100 saddles to lucky riders around the world–in exchange for some constructive feedback. Just think, you could be one of those cyclists.
To register and possibly win a C15 for yourself, simply click here. If you are one of the lucky 100, be sure to let me know in the comments section!
Of course, you can also watch the official video from Brooks on their line of Cambium saddles:
So what do you think? Does this look road-race worthy to you?