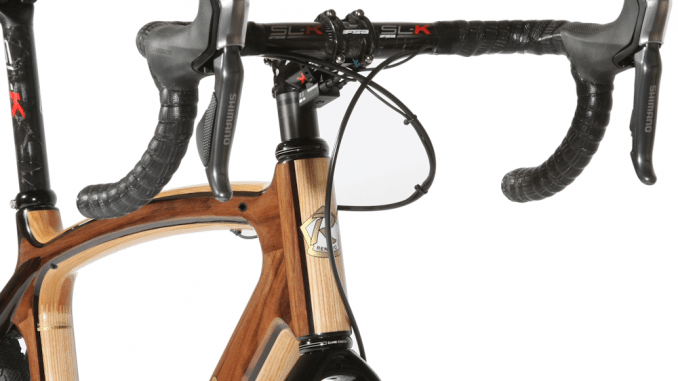 Many of you have seen wooden bikes these days. Awesome organizations building bamboo rides for low income economies have made a serious splash in goodwill circles. But these bikes have generally been aimed at the commuter who needs something durable yet inexpensive. So what if there was a wooden ride that you could race with–and actually go fast? Banish that image in your head of the single-speed, flat bar, rack-toting bamboo bike, and replace it with a sleek racing machine replete with the smell of rich mahogany (OK, I don't know if mahogany is an option, but I couldn't resist the Ron Burgundy reference). In short, these frames are kind of a big deal.
The folks at Renovo Hardwood Bikes have been building custom wooden rides for the last seven years, but they've decided to move toward a more streamlined process in manufacturing in order to fill more orders. That's not to say that they're automating the process–theses are still handbuilt, custom bikes–but they're merely saving time in the process by reducing variables in the manufacturing. But even with fewer options, these are still new and different from the rank and file of the weekend group rides, yet with styling reminiscent of the top carbon offerings out there.
(Update!) Ready-To-Ride Models
What used to take over a year from order placement to delivery, sometimes longer dependent on how many "customizations" you wanted, now takes only a few weeks. Labeled their Ready-to-Ride (RTR) models, Renovo allows you to choose your frame style and pick components from a few pull-down menus on their site. A few clicks later et voila! You'll be the proud owner of a slick and unique ride.
There are 7 different RTR models available now, 3 of which are road-specific:
Road
Firewood (pictured right) – Road disc endurance bike
Pursuit – Performance road
Astoria – Classic road frame with disc or rim brakes
Urban/Commuter
Elwood – Commuter with either upright or drop bar
Pandurban – Upright style urban bike made of laminated bamboo
Adventure
John Day – Gravel, backroads
Further – Touring, camping
According to Renovo, their frames have fantastic stiffness but amazing smoothness and dampening in ride quality. Because the frame is actually hollow, Renovo has come up with a relatively lightweight build, although at "4-5 pounds" these do end up on the relatively heavy side. However, Renovo also makes the point that they are able to build much lighter frames, but that's not really their mission in manufacturing. An idea that sparks some serious interest from those who want it all: featherweight, stiff, smooth, comfortable, and fast. Overall, expect these to be on weight-par with a custom steel frame.
But perhaps the coolest thing about these bikes is their durability and ease of repair, with a "fatigue life [that] exceeds steel or aluminum, and approaches carbon," and a relatively cheap and easy repair process if you do ding it, according to Renovo. But one thing they've definitely got over other frame materials: wood is sustainable.
 So why consider a wooden bike? Because it's really nothing new–the first bikes were made with wood, and it's destined to make a comeback. These days, the race for stiffer, faster, lighter carbon has pushed the limits of what a bike can be. And the trickle-down effect has offered a large percentage of cyclists the ability to get into a quality carbon frame for a reasonable price. Starting at $4,865 for the Astoria, a century-killing relaxed ride, the average cyclist is likely priced out of the cheapest model, but if this trend catches on and grows, perhaps we'll one day see wood compete for a top spot among the masses.
To see more of the bikes in action, check out this video by the craftsman at Renovo themselves:
Looking to add a wooden bike to your stable? Head over to Renovo's website to order your own. The process actually allows for a certain degree of choice in components and price points, and if you want to go the fully custom route, you can do that too–just be prepared to wait. If you do, please, please post a picture of your new ride to the comments section. We'll all ooh and aah over it.