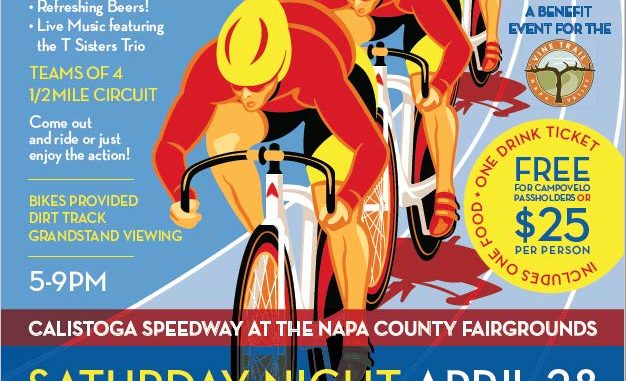 CampoVelo  announces "Saturday Night at the Speedway."  Calistoga Speedway to switch from cars to bicycles for one April night.  Inspired by the cult-classic, coming of age films, Breaking Away and Indiana University's, Little 500 race.  Campovelo returns for a second year of three days of World Class Cycling.  It all occurs April 27-29, 2018.
A team relay race is planned by Organizers around the half-mile track, peaking Saturday's events.  Teams of four riders, one at a time, in hopes of becoming the fastest team, working
to get all four riders across the finish line.
Not sure about racing?  There's a prize for most laughable!  If you shoot for that, who knows? Oh yeah, there's also first and last place prizes.
Proceeds will go for a good cause, supporting a non-profit coalition, the Napa Valley Vine Trail. The Coalition is dedicated to building a class 1 paved bike path from Calistoga to the Vallejo Ferry. So far, 19.5 miles have been constructed of the 47-mile plan.  (Full itinerary, visit www.campovelo.com).
JOIN A CYCLING TEAM OR SIT BACK AND ENJOY
No bike necessary. Detroit Bikes, are providing their made-in-the-USA single speed bikes for the race to all entries. Not riding? Sounds like fun just enjoying the racing, fine cuisine and live music featuring the Oakland based band, The T Sisters trio. CampoVelo plans a beautiful outdoor evening of fun, that will also feature Napa Valley food trucks, wineries and breweries.

CAMPOVELO HAS CLIF BAR & COMPANY AS TITLE SPONSOR
According to the organizers, Chef Chris Cosentino, a former professional cyclist, has a unique recipe for a classic Napa weekend.  "Eat well, ride hard (or easy) drink excellently and find your fun."  Chef Chris has Clif Bar & Company, as a sponsor of this event. Their goal is to make the weekend memorable.
Chris has plans to blend the best of the culinary world with the world of cycling and wellness, CampoVelo organizers are aiming to turn this event to a cycling highlight of the year – adding another great time, especially to those of you having Sea Otter withdrawals.
IT'S A CYCLING AND FEED EXTRAVAGANZA
It sounds like fun as they kick off the weekend in St. Helena on Friday, April 27, 2018.  They offer a selection of road and mountain bike rides, as well as a yoga session. This is followed by lunch at Clif Family Winery's tasting room.  An evening welcome reception with bites by Cosentino, wine tastings, and a fashion show at Las Alcobas. Later, a ticketed five-course dinner hosted by Cosentino at his restaurant, Acacia House, in St. Helena will benefit "No Kid Hungry."
Saturday features a selection of rides and wellness activities. The itinerary shows the morning activities to be followed by a festival featuring speak-easy sessions, culinary demos, and wine workshops. Food trucks will also be available at the Calistoga Speedway.
The CampoVelo schedule all culminates Sunday with a big ride, gran fondo style, and three route options (35/50/80 miles). It will be followed by a "Pigs, Pasta and Pita" lunch all supported by a number of local wineries and notable chefs.
CYCLING TO YOUR HEARTS CONTENT… (
The When, Where and What)
Three day full itinerary visit www.campovelo.com
Calistoga Speedway Event:  Saturday, April 28th., 5:00 to 9:00 p.m.
Cost: Free for registered CampoVelo Passholders (3 day; 2 day or Saturday only) | General public: $25.00 per person (includes 1 food  and 1 drink ticket) | Ages 12 and under: $12.00 (includes 1 food ticket) | $10.00 per racer