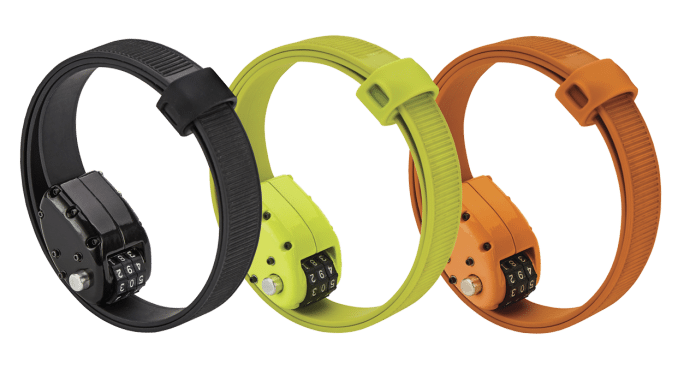 We've seen cool stuff from Otto Design Works before. Well now the keen minds at Otto are addressing yet another need for the average cyclist: a lock that is actually light, yet actually works.
Enter the OTTOLOCK. At just 115 grams, this coiled lock features a combo setting (I'm looking at you, losers of keys . . . OK, yah, that's me, actually), and some serious strength against cable cutters. According to the folks at Otto, they've "tested beta samples rigorously in internal cut, pull and smash tests." A good omen for a strong lock. The design relies on high-temper, 18-mm wide stainless steel bands coated in Santoprene® (a highly durable plastic) and reinforced with Kevlar® (gettin' serious here).
The potential in this lock truly lies in its portability, and, if the thing is as resilient as it looks to be, it should become a staple for roadies looking to lock their bikes during refuel stops on a long ride, etc. Cinch it up and throw it in a pocket or stuff it in a saddlebag, and go.
The OTTOLOCK will come in multiple colors, and be available in three lengths, with an all-around 30″ (76cm) version, a super compact 18″ (45cm) Pro Ride version, and a 60″ (150cm) extended version (which is long enough to lock multiple wheels to a post). Pricing is expected to start at $49 USD for the all-around version. OTTOLOCK is both designed and manufactured in the USA.
If you're feeling like backing the project, you can still grab an early-bird deal if you move quickly–the OTTOLOCK page is quite popular at the moment. Either way, you can get more info at Otto's official Kickstarter page.
We're looking forward to catching up with this at Interbike next week! Keep watch for more info. You can also watch a video below (beats those spreadsheets your boss thinks you're working on, right?):