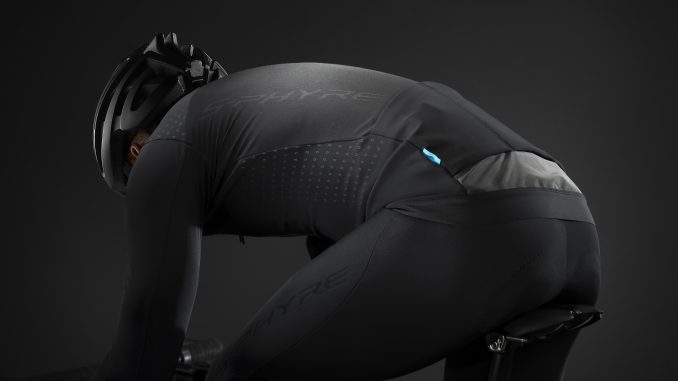 Shimano has gone all-in on their new S-Phyre line. It began with some pretty polarizing shoes, and it expanded to full kits to match. Now Shimano is telling us we no longer have to be cold against our wills. Their new cold-weather jerseys, base layers, tights, gloves, and shoe covers claim to block wind and keep you racing fast.
Plus, I might add, that these kits look like you've ridden to the future, grabbed a couple of kits and raced back to 2017. All that before anyone knew you'd pulled off the front of the pack.
OK, well you'll have to wait until September to be fully toasty. But if these kits are anything like the quality of the rest of Shimano's S-Phyre line, they'll be worth the wait. Aero cuts and futuristic dimples and other cool features have Shimano claiming that you'll stay darn fast next racing season.
Here are the details direct from Shimano:
S-Phyre Wind Resistant Cycling Jersey
The long-sleeve S-PHYRE Wind Resistant Jersey is designed with an extremely anatomical and aerodynamic cut to cheat the wind, and a water repellent coating to shed moisture. Warmth comes from a fleece quilted interior, high fleece- lined neck and low reflective tail offering extra coverage, while side panels and shoulders feature laser- cut MicroVents for breathability. Deep storage pockets on the back include one waterproof zipper pocket and one looped pocket for secure storage of valuables.
S-PHYRE Long Bib Tights
C
onstructed from three neoprene layers with fleece inserts on stomach and kidney areas plus a high cut on the back and chest to help heat retention and protect the rider across changing off-season conditions. An all- important top and bottom zipper on the stomach section allows for easy comfort breaks. The legs come with an anatomical knee construction for irritation-free motion, a high-vis calf color option for enhanced visibility and an ankle zipper for a sleek fit.
The chamois is shaped to follow the pedaling motion of the rider with a split swallowtail design and a 4-layer shock absorbing construction. A version without a chamois is also available.
The S-PHYRE Winter Baselayer
Features an exceptionally comfortable, seamless one- piece doubled-knitted quick-drying construction with integrated back mesh panel to allow excess body heat to escape.
The S-PHYRE Insulated Shoe Cover & 
S-PHYRE Toe Cover
Combine perfectly with the Shimano S-PHYRE RC9 shoe allowing for BOA adjustments through three layers of fully waterproof, highly anatomical, stretchable Neoprene with one-piece construction for smoothing airflow across shoes.
S-Phyre Winter Cycling Gloves
The anatomical, form-fitting style extends to the S-PHYRE Winter Gloves which feature an extremely stretchable and comfortable long cuff design, double-lined with Neoprene and Titanium- α upper layers to insulate from the outside and retain warmth on the inside.
The palms feature synthetic leather and PrimaLoft synthetic microfiber thermal insulation for flexibility, warmth and maximum grip on the bike. The dexterous, second skin feel extends to the thumb and index finger, which are touch screen compatible, while a brushed area on the thumb takes care of face wipes.
Grab more info at Shimano's website