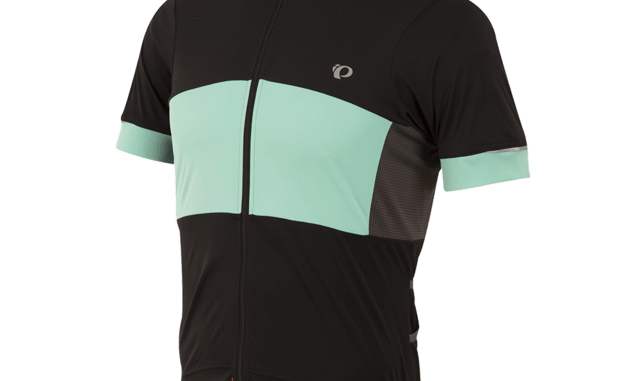 Pearl Izumi Men's & Women's Elite Kits Reviewed: Gear for Your Bike Month Commute
It's still May. And we're still celebrating Bike Month with the help of PeopleForBikes and Pearl Izumi. We've tested two full kits from Pearl Izumi with the lens of using these as daily commuters or on longer mileage training rides to keep you in the National Bike Challenge.
Below, we've got full reviews on both the men's and women's Elite Escape Jerseys, Shorts, and Tights. The one thing we thought was awesome across the board here? Reflectivity. Yes, all of the gear here is equipped with reflective elements and high-vis colors that increase your profile on the road.
Our Tester's Review: Rated for chilly mornings dipping as low as 45-degrees, these knickers are somewhat warmer than others I've tried. I didn't tend to feel that icy-skinned effect after my morning ride. However, if you're heading out in temperatures much lower than 50, you might want to consider either adding another layer or getting a thicker, lined pair. Remember, we're in Coastal California.
Fit: Comfort-wise, these tights are somewhat exceptional. I generally only go for bibs, but the v-shaped waist didn't dig in or cause much muffin-top. It did, however, have a slight tendency to roll down whenever I rode in the drops. If you're between sizes, you'll probably want to size up here–especially if you have also been blessed with more muscular thighs and calves. I generally wear a medium, and these mediums were a little on the tight side.
The 3D Elite Chamois on these knickers seemed almost minimalist at first, but it held up surprisingly well to a 3-hour ride. If you're planning to commute in these, they'll definitely get you to work in serious comfort–especially if your ride is an hour or shorter. The nice thing about the chamois being somewhat thinner than others I've tried is that there's no room for bunching here. Good times.
Price: $120 | More Info at Pearl Izumi
Our Tester's Review: Super soft and with an easy fit, Pearl Izumi's Elite Escape jersey rides that fine line between performance and comfort. Some nice features here include the full zip and 5 pockets at the back of the jersey while high-vis detailing adds to your profile on the road. One thing this jersey seems to do well is keep you dry. Moisture wicking to the max.
Fit: Definitely a winner for riders who aren't looking for the tightest, most aero jersey out there, but still want a form-fitting cut. A little on the loose side in the hips–highlighted by the minimal gripper at the back hem–the shoulders and neck fit exceptionally well, especially for a broader body type (namely, me). No gaps or flapping in the sleeves, and a flatteringly fitted cut at the shoulders.
The waist is a little looser than I generally like, but the extra pockets in the back are nice–especially for commuting when you might want to stuff another layer in as the weather changes. The size of the 3 main pockets is a little on the small side with just enough room for my iPhone 6+, but if you're not planning to carry flat-fixing gear in your pocket, you should be just fine to tote gels, bars, and the odd pair of arm warmers.
Overall, a great jersey for riders who want versatility. Stands up to a long commute, or a few hours training in the saddle.
Price: $95 | More Info at Pearl Izumi
Our Tester's Review: A super comfortable, smooth, fabric with muted, yet appealing color scheme. As a rider with a larger chest and shoulders, this jersey fit me quite well with a form fit that didn't constrict. Great for bigger guys who still want high-tech fabrics.
Fit: Cool and well cut, this jersey doesn't have any abrasive seams or annoying silicone at the arms. Although a bit on the short side in the front–riders with longer torsos will want to take note–the back didn't ride up to reveal any skin (I put that nicely). Meaning, I was able to wear this without bibs and without looking sloppy.
The sleeves fit a little longer, and the cuffs were a little loose on me. The full front zipper is fantastic for venting with an extra flap underneath to protect base layers from getting caught. Five pockets at the back fit all my usual pocket-fillers easily. Overall, this is actually one of the sleeker jerseys I've worn in a while. Definitely earned a spot in my permanent kit rotation.
Price: $85 | More Info at Pearl Izumi
Our Tester's Review: Trickle-down tech from Pearl Izumi's PRO line makes these shorts a serious workhorse. The Elite 3D chamois kind of disappears once you're in the saddle–a good thing for those of you trying to get away from the diaper feeling. First impression walking in them, I dismissed the chamois as being bulky, but the chamois laughed last. It held up well, kept me comfy, and didn't have any hot spots.
Fit: These are a great all-around short for really any length ride. The fabric is super smooth, and wicks moisture like crazy. Although the inseam is a bit long for my taste (hitting close to my kneecap), the compression factor seems almost perfect. I'm also a huge fan of the minimalist leg grippers, and the top of the short fit firmly without being too tight. No crack here. Plenty of height at the back keeps these shorts in place.
Price: $110 | More Info at Pearl Izumi