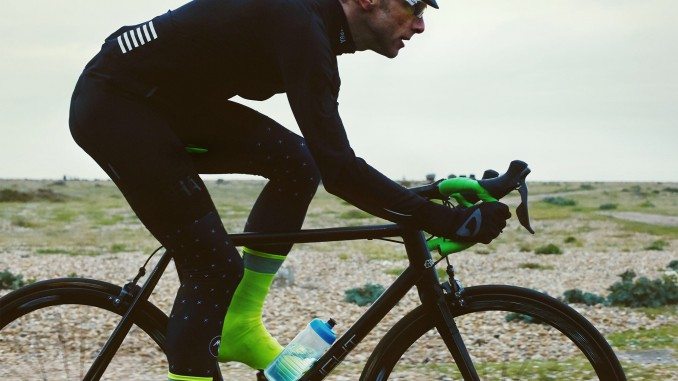 It's Interbike 2015, and Fabric says you don't need no stinkin' bottle cages–not in a smug way, though, in a "you could be even more awesome than you are now" way. Their somewhat revolutionary new design uses two simple studs and a compatible bidon to carry your hydration on the bike.
This cageless bottle not only has potential for roadies who don't like to muddy up the clean lines of their bike, but it also can lead to some cool weight savings. At only 1.5 grams each, you can't beat this with any other cage. The system works by replacing your cage screws with Fabric's own. Then the bottle simply clips onto the studs screws.
 We're also stoked with the color options that match your bike–and black goes with everything (at least that's what people keep telling me while they stare at my fluorescent shoes). Each system you buy includes one BPA-free water bottle and two sets of studs for multiple bikes or to swap colors when you get tired of one.
Currently, the 600ml bottle will be available in the U.S. for approximately $15. Shipping out sometime in the next few weeks. The larger, 700ml version is coming later this year.
Want to grab your own set? Head over to Fabric's website. If you do, be sure to tell us how you like them! And, if you want to wait for our review, we should be getting a tester here in the near future.