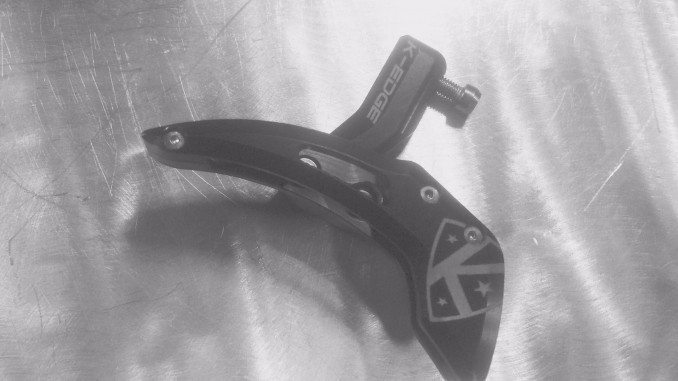 The smart people at K-Edge are catching (pun kind of intended . . . kind of) the 1X fever by teasing their prototype CX1 chain guide at Interbike 2015. We stopped by the booth and got a close-up view of the new solution for riders who've embraced the single-front-ring movement as well as those looking for updates in the camera mount market.
Although still in development, the chain watcher we saw is machined alloy (as per the usual K-Edge) and still undergoing some refinement in weight and design. A braze-on and clamp version as well as an ISCG mount are on the way. This looks to be a great move for 'cross racers wanting to make sure their chain stays put while hammering in the sand or jumping some stuff–especially since the single ring system still has a tendency to jump even with the clutch tension derailleur. Braze-on and clamp mounted. More details coming soon!
But we do know more about the refined camera mounts for GoPro and the like. A centered, 1-bolt mount with a beefed up arm and out-front design that eliminates your brake hoods from the camera's field of view is coming to the K-Edge line–(of course this will eliminate hours of braking and shifting viewing pleasure. Feel free to cry. It's ok.).
These mounts now give you a range of locations for mounting your camera from centered, left and right. But the coolest thing coming: a 35.0mm mount to join the 31.8. As always, K-Edge gear is made in the great ol' USA, and the revamped camera mounts should come in at about $40. Release date sound be near the first of 2016.
Be sure to check out K-Edge's site to grab your own as the release date approaches.