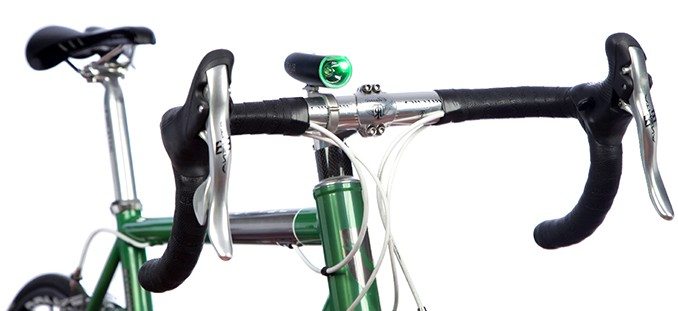 There's nothing quite so adrenaline-inducing as riding alonside a car. You're not terribly sure that the driver knows you're there–and a right turn without checking their blind spot first could cause you to be making a very sudden right turn as well. The people at Blaze have a solution to this problem: a cyclist warning light that casts a bicycle image into their field of view.
The Blaze Laserlight is now finally hitting the U.S. market after a fairly successful launch in the U.K. Created and Kickstarted by Emily Brooke, a physicist cyclist, the Laserlight was started in response to the large percentage of cycling incidents in the U.K. where drivers maneuvered into a rider's path. Brooke's solution was to create a high-powered light that also incorporates a laser to project a bicycle icon 20 feet in front of the rider. This alerts drivers of the cyclist's presence and increases the visible window of the cyclist riding at night or in low light conditions.
The Laserlight features a 300 lumen (yes, 300 robust lumens) USB rechargeable LED light, built from aircraft-grade aluminum and claims a battery life up to 13 hours. It fits most handlebar types and is waterproof to a depth of 3 feet–good news for those of us who like to swim with light, but also want fellow swimmers to know that we're really cyclists (OK, that's a joke. I don't think you can swim with this). The Laserlight retails for about $200 and is available for direct purchase at the blaze website. At $200, we thought it was a bit steep, but not incomparible to similar lights with high lumen capacities. If it keeps drivers more aware of your presence, however, it could be well worth the cash.
What do you think? Will this be your next light?