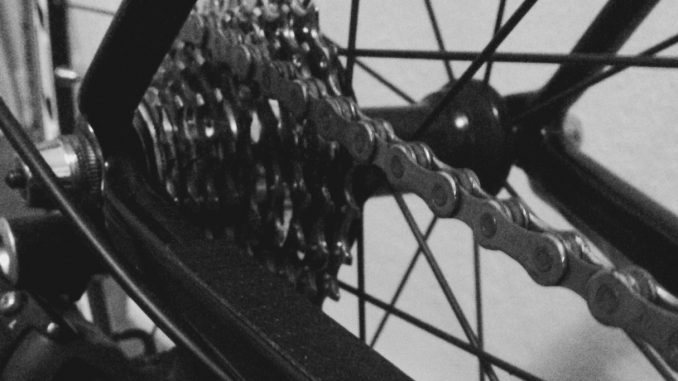 Bri: "I can't seem to figure out how often to lube my bike chain. It seems like I either hear squeaking or the chain gets so grimy that I can't clean it out. How and when should I lubricate it?"
Great question, Bri! Keeping your chain lubed and free of dirt will help your drivetrain to last longer. So while it's important to add lubricant often enough, you don't want to douse so much of it on the chain that it actually collects debris. Generally, although this does change a bit based on the weather/terrain you ride in (for instance, rain=much more often), you should drop plenty of good quality lube on the chain every 200 miles or so.
In all honesty, it's kinda tough to really put a mile-marker on it, but one of the more important things to remember is that your chain/cassette/chainrings shouldn't have black gunk on them. That debris will wear your drivetrain down like nobody's business. So here are a few tips for you:
1. Drip a decent amount of lube on the rollers of the chain as you pedal backward (not too fast, mind you) for several seconds.
2. Get a rag and wipe the excess lube off by pedaling backward while you hold the rag around the chain. I mean, really, really, really wipe it down. You'll probably see a ton of black rub off onto the rag. Keep wiping. It's important that you get the thing clean. You also don't want the chain wet with lubricant because it'll tend to pick up more dirt as you ride.
3. That's actually pretty much it. But since I have a hard time shutting up, I'll add a couple of tips here. Try not to lube your chain right before a ride–it's a great idea to do so the night before so that it has a chance to dry a bit, and it won't be a dirt magnet. If you keep getting a lot of grime while you're wiping the chain, or it's been a long time since you cleaned your drivetrain, consider removing the chain altogether and giving it a thorough clean off the bike before you add the lubricant.
Got a burning question you want answered? Send it over to me, and I'll answer to the best of my ability. Because it's important to remember, there are no stupid questions!