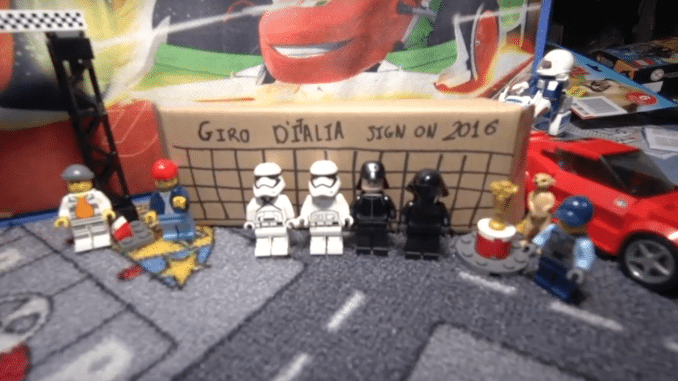 Team Orica GreenEdge at the Giro
Pro cycling team, Orica GreenEdge have been tearing it up lately . . . on YouTube. Their playlist of videos includes backstage looks at races like Paris-Roubaix, which was quite the success for them and Mathew Hayman especially. We've included that video below as well, but really we're interested in the reasons why Team OGE had to recreate Stage 4 of the Giro D'Italia with action figures, legos, and tuna cans.
With team riders, Luke Mezgec and Sam Bewley, commenting on the action, the entire race becomes somewhat more exciting than we're used to. Because, let's face it, the Giro D'Italia has always been the Tour de France's second cousin–they're kind of a part of the family, but not close enough for you to consider inviting them to Thanksgiving.
And Team Orica GreenEdge definitely won't be extending an invite this year with the Giro's staunch refusal to let the pro tour boys share their backstage footage with us. So, they decided to bring up the issue in a clever, diplomatic, entertaining way.
Check out their official video below to see exactly what keeps pro teams busy on rest days, and enjoy a few pokes at other pro cyclists while you're watching–like the group that's "fresh off the Death Star."
Behind the Scenes at Paris-Roubaix 2016
And if you're wondering what all the fuss is about with Orica Green Edge's other backstage passes, we've also got the 2016 Paris-Roubaix footage with Matthew Hayman. Twenty minutes of behind-the-scenes racing footage with tips and advice from the pros themselves.