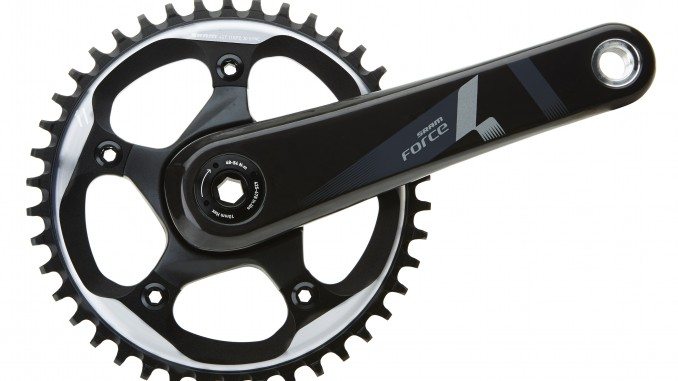 Over our weekend at Sea Otter Classic 2015, I got to hang out with the people at SRAM. And by hang out I mean I stood around staring at their bikes and was super stoked over the free socks they handed me (I might even be wearing them right now, who knows). But among all the MTB and 'Cross stuff sitting around was a pretty spiffy looking road bike sporting the new 1X system (pronounced one-by). The very cool gentleman manning the SRAM booth, and later Rebecca Rusch (shameless name dropping), gave me a good reason to pay attention to the simplicity of the 1X system and what it can mean for everyone on the road: worry-free shifting, no cross-chaining.
While the 1X system isn't new, it is finally making its way to the road from the dirt side of things. Basically, the drivetrain loses the inner chainring, front derailleur, and left shifter while it gains a larger span of gears in the cassette. While you might be worried over chain slap with the loss of all those moving parts, the rear derailleur has, for lack of a more overt description, a tensioner in its long-cage design that keeps the chain taut and running.
Released as the Force 1 and Rival 1 groupsets, these should appeal to plenty of roadies and triathletes out there, though the gear ratios seem to lack a bit when you need some top end speed–I'm talking to you racers out there. But the ease of use could make it a solid choice for plenty of riders on compact drivetrains.
The biggest change here lies with the 11-speed cassettes. Because you're losing one of your chainrings, you've got to somehow include similar gear ratios with just one block of cogs. These cassettes come in a few options: a 10-42 and an 11-36 cassette–depending on whether or not you want to swap out your hub. Without going into too much detail on the types of cassettes (lighter/heavier, bigger/smaller gears), SRAM seems like they're trying to give you a good deal of options to get you into a range of gears that will be fairly comparable to what you're riding now–only you won't have to deal with that pesky front derailleur. SRAM's new chainring design features a narrow/wide alternating tooth pattern for optimal chain retention. New chainring options will run from 48, 50, 52, and 54T.
I know that's all a bit of a mess of numbers and details, but it basically boils down to a decent range of gears for plenty of riders. The jump between one gear to the next, however, seems to be a little wider than usual, so if you're used to making finer transitions in your cadence this may not be the system for you. But SRAM doesn't really seem to be aiming at tossing the second chainring on everyone's bike–their target audience falling with crit racers, triathletes, gravel riders, and road enthusiasts who want simplicity.
If you want to see the system in action, check out SRAM's official launch video below. Notice, however, that they came to our own home roads and didn't invite us on a ride. Are we bitter? Well, they don't have our number, so . . . yes. 😉 No, we're totally kidding. The people at SRAM are genuinely awesome, but I would say that this field of "media" is missing a key demographic, and it's not old white dudes, amiright?
OK, that sounded a lot like jealousy. Let's watch this video and feel better:
So what do you think? Considering making the switch? Let me just say that I talked to a large group of pro female riders who were raving about the system. We hope to test this here in the near future and give you a much stronger review of how it will all work for you. Until then, let us know what you're thinking!