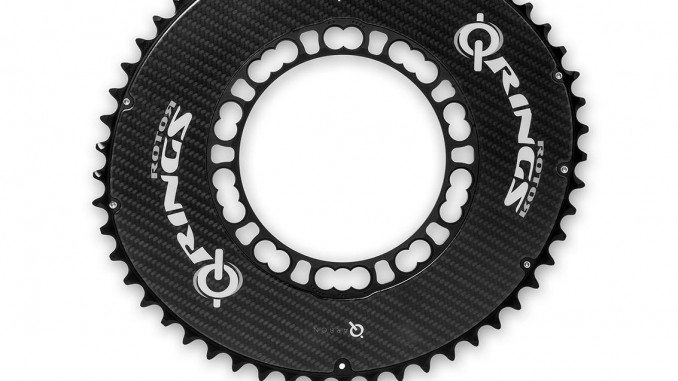 The Rotor booth was under super buzz at Interbike 2015. The peeps at Universal Sports felt big enough to take over our meeting slot. That might sound complainy, but really we were stoked by the opportunity to video-bomb–especially since they brought a dude named Dave Zabriske with them to demonstrate Rotor's InPower software that maps your pedal stroke exactly.
But after we stopped stalker staring at DZ, we got a walkthrough of the coolest stuff from Rotor these days: the InPower Power Meter, the UNO hydraulic groupset, and the brand spanking new for Interbike Q-Rings QX1 and Qarbon.
First off, the InPower is pretty sweet and compatible with their free pedal stroke analysis software that shows you exactly where your spin is strongest and weakest. The strain gauges are all axle-based with accelerometer that gives you torque effectiveness, pedal smoothness, cadence, and, of course, power. And all of this runs on a single AA battery that slots into the axle via a cap on the crank and runs for approximately 300 hours. The cranks are crafted from either 7055 or 7075 aluminum alloy, and you can buy the full crankset or a non-drive side arm, which starts at a pretty competitive $779. With the ability to fine-tune your pedaling, the InPower is, in our opinion, even more competitive at this price point when compared to similar setups.
We also got to play around with the all new UNO fully hydraulic groupset, which we recently previewed, with its power actuated shifting. The feel of the shifting is crisp and you can even set the rear derailleur to jump up to four gears at a time. We were impressed by the looks of the system, and it seems that Rotor has made good on their claims. We think the UNO is a serious runner in the groupset race.

But last, and certainly not least because we put it first in the title, Rotor's two newest Q-rings graced the showroom floor: the QX1 and the Qarbon.
Jumping in on the 1x road trend, Rotor is releasing their new QX1 single front chainring that adds 12.5 percent ovality and five optimum chainring positions (Rotor's famed OCP). Add to this wide/narrow teeth to keep your chain in place and compatibility with all 110 BCD cranks.
As for the new Qarbon, weight weenie's can now start rejoicing in an 8% drop in weight and 20% greater stiffness than Rotor's other chainrings. OK, it's not just for weight weenies–it's also for those of us who would rather lose weight in our chainrings than skip that extra glass of Cherry Coke.
All joking aside, the new manufacturing process Rotor is implementing here is pretty cool: "Qarbon bonds a 3k woven high modulus carbon fiber sheet to the Q-Ring´s exterior side, allowing for a more aggressively machined aluminum section and increasing lateral stiffness while improving shift quality." This basically means they're able to drop more metal off of the chainring to reduce its overall weight and make for a smoother shift. Like the Qx1, the Qarbon is compatible with 110 BCD cranks as well.
All in all, we were pretty impressed by what we saw at Rotor's booth–especially Dave Zabriskie. Rotor is making some huge moves this year, and we think they're coming through with some truly quality gear.
So what do you think? Let us know if you're planning to pick up any or all of these new offerings, and, in the meantime, don't forget to check out Rotor's official site.