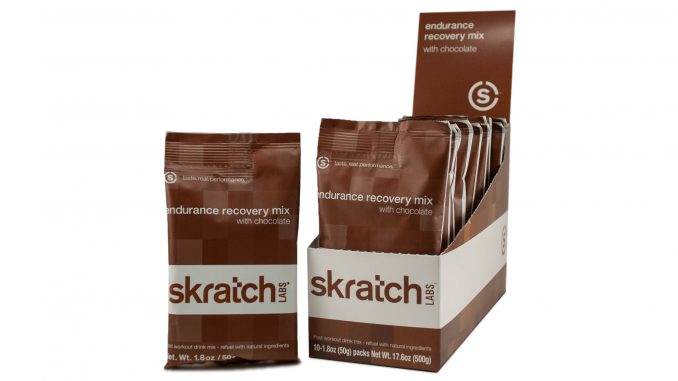 You know that gritty, tangy aftertaste that just kinda makes you hate recovery drinks? Forget it. Skratch keeps refusing to make fake and gross stuff. This is literally the best recovery mix I have ever had. Boom.
SCRATCH LABS ENDURANCE RECOVERY MIX
Normally, I hesitate to taste things like recovery drink. I'm used to the bite of other products that force me to gulp down the gritty mix and brace for the aftertaste.
It was with this trepidation that I first tasted Skratch's new mix at Interbike last year. The paper cups, the oversized dispenser filled with rich liquid chocolate. Trembling hands as I watch the level rise in the cup and know that I'm about to try a new recovery drink.
Then I remember this is Skratch Labs' booth. Courage. I down it . . . . Dang.
It's. Crazy. Good.
And, no, they've not paid me to write this. Although, I wish they would–I'd be a Skratch Labs ambassador any day because every single thing I've tasted by them is ridiculously awesome.
FLAVORS AND OTHER INFO
Three flavors (vanilla, chocolate, and coffee) all live up to Skatch's legacy for being taste-bud friendly, and make you actually look forward to helping your body to repair itself after an intense workout.
The best flavor, of course, being chocolate, Skratch's Endurance Recovery Mix mixes with just water and offers sodium, protein, and sugars to help your body replenish those depleted stores.
Although I didn't do any truly scientific testing, in my experience, this mix made me feel fresher and less fatigued than my usual chocolate mix. After some especially difficult HIIT sessions, I fully expected my legs to feel trashed the next day. But with Skratch, I bounced back better without that lead-legged feeling.
The cool thing? My old mix tasted horrible, and I hated ending rides with it. This is my new mix; for real. Forever.
A Little More Info
You can get the endurance mix in a few different packages, and buy them in singles, 10-pack single serving pouches, and a big resealable bag with 12 servings.
Price: $3.50 to $35 | Sizes: Single, 10-Pack, and Resealable Bag | Flavors: Chocolate, Vanilla, and Coffee
You can grab some for yourself direct from Skratch Labs, at your LBS (like Art's Cyclery) or at online retailers like Jenson USA or even Amazon.