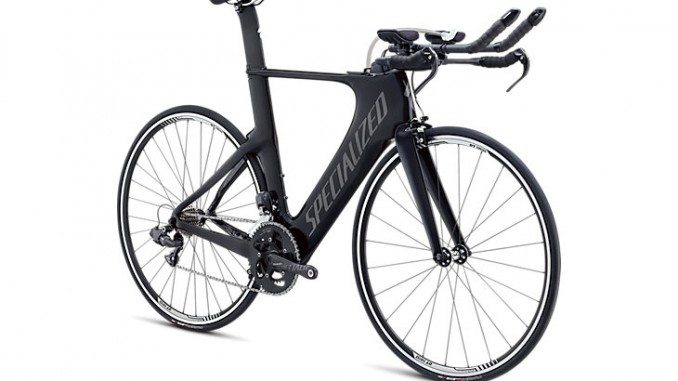 Taking all the necessary food, flat repair, tools, and whatever else can be rather frustrating–especially if we're trying to keep it aero. So Specialized has considered all the necessities and decided to use the empty aero space to contain it all.
Although it's not been properly released to the public, Specialized is dabbling in the seriously Aero market with new aero add-ons to their Shiv TT bikes.  Also moving into Mountain technology for storing things like a chain braker in the top cap, and a multitool in the frame itself. So now they've brought these storage solutions to the aero market with SWAT (Stands for Storage, Water, Air, and Tools) for the Shiv.
The Fuel Cell
Designed to go together with the interior bladder the Shiv already contains within its super aero frame, the Fuel Cell sits in the empty space between the down tube and seat tube to give you food to go along with your water. The upper piece can hold several gels and bars while underneath there's plenty of room for a C02 pump and extra tube. Basically, Specialized has moved the non-aero, non-cool Bento Box from the top tube to the empty frame space. To the side, space for a mini-tool leaves all your gear at your fingertips. An easy split-top cover provides simple access while hammering, which makes this a win-win for triathletes who call the Shiv their own.
Behind The Seat
Specialized has also added the option for a single bottle cage that hooks to the back of the Sitero saddle–the seat soon to be standard on the Shiv. Combined with the internal bladder that holds about 20 ounces or so, the rear bottle allows you to get enough water on the bike for a fairly long ride. If you need another space for a bottle, the aero bars also give you another opportunity to take liquid with you. Theoretically, you can now get around 72 ounces of water on your bike–depending on the size of the bottles. Sounds like plenty to me. In addition to the bottles cage, there's also space to connect a mini or C02 pump onto the side of the cage.
A couple of cool additions to the already awesome Specialized TT bike–plus they keep those lame-o saddlebags from marring some beautifully aero lines. What do you think? Gonna pick up some serious aero for your Shiv? Comment with your thoughts!