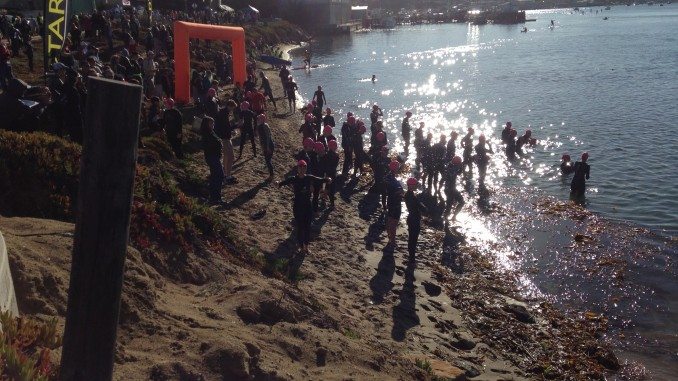 Faster Than Ever With The Sufferfest  – Training Diary
I was using Google Earth the other day when I spotted the pool where I do most of my lap swimming. The width of the pool was a mere centimeter on the face of the city and an indistinguishable speck on the globe. I felt almost panicky realizing that I spend hours in that tiny speck swimming back and forth, back and forth, back and forth. So when a swim-bike brick fell on a sunny weekend day I had to get outside. I'm lucky enough to live near the site of my next triathlon, so I struggled into my wetsuit and waded into the chilly bay.
My new goggles leaked a bit and some kelp brushing against my hand startled me enough to result in a scream that I'm grateful was muffled by the water, but the open water swim was my best yet. My friend who has been swimming with me for nearly a year now remarked that I'd gotten faster. I didn't struggle to keep up, and when I left the bay and yanked off my wetsuit I had plenty of energy to complete the bike course. I didn't bring running shoes, but I felt entirely capable of getting in a few decent miles if I had.
Despite a couple of rough days in weeks 3 and 4, the suffering is paying off! A couple of days later after an endurance building swim workout I snuck in a couple of timed sprints and was thrilled to have cut several seconds since starting The Sufferfest training plan. It's still hard to muster the discipline to swim a few seconds slower than Critical Swim Speed and get in those extra reps, but clearly The Sufferfest knows what it's doing.
When I got out of the pool tonight I had a strong urge to ride my bike off into the moonlight. If you've ever heard me complain about brick workouts, you know this is abnormal. The Sufferfest is molding my very psyche into a conditioned triathlete. I'm swimming faster than ever before, climbing stronger than ever, and keeping my form in the saddle.
I have no idea if I can still run. I mean, I do complete the run workouts, but the focus on set times at specific heart rates and multiple hard, fast efforts means I haven't paid much attention to my pace in awhile. Running was my strongest leg before The Sufferfest, so I've focused my efforts on swimming and cycling in order to guarantee decent split times. I'm dying to know how fast I'm running. Hopefully I haven't sacrificed my strong running legs for a decent first two legs.
At the end of this week I will be facing some added challenges in the work, family, and, most dauntingly, traveling arenas that will likely get in the way of serious Sufferlanrdian business. Since running seems to be the easiest sport to squeeze in while traveling, I'll be sure to get some data on how my running legs are holding up.
My Ongoing Review
Having just completed week 5 of my training plan, I'm seeing some tangible results. I really just feel faster, but it definitely shows in my swim and ride times as well. Being able to climb is a huge deal for me–especially since the bike is the weakest leg and the course for my upcoming tri is hilly. The Sufferfest has defnititely forced me to get better at the two legs I dreaded most, instead of letting me just rely on my run to make up for the other two.
This thing works.
If you want to keep watching me suffer (that sounds kinda not cool, but whatever) click here to read our other training diaries, and if you want to keep following my (and our other writer's) progress through The Sufferfest, be sure to subscribe to SLO Cyclist.
What Exactly Am I Doing?
The Sufferfest Intermediate Triathlon Training Plan – 10 Week with Training Videos
There are a few options to get you started. Grab the training plan (they also have plans for cyclocross and triathlon) for $29.99 and download the official app with all of the necessary videos at your fingertips for $10 per month (a great way to go if you don't want to hassle with downloading all of the files and copying them over to your mobile devices for easy viewing). All in all, you'll spend about $60 to complete your training this way.
If you want to own the videos outright and download them, you can also purchase each video separately for around $12.99 each–or get them all for $199. For this particular plan, you'll need 13 videos.
You can also see more of what other Sufferlandrians are doing, and keep up with @TheSufferfest on their Facebook and Twitter pages. 
Because I have chosen to suffer publicly, the kind (wait, I don't think that's the right word) Minions at The Sufferfest have set me, and a couple of others in our office, up with their road and triathlon training plans as well as their full complement of videos. Thanks, Minions!