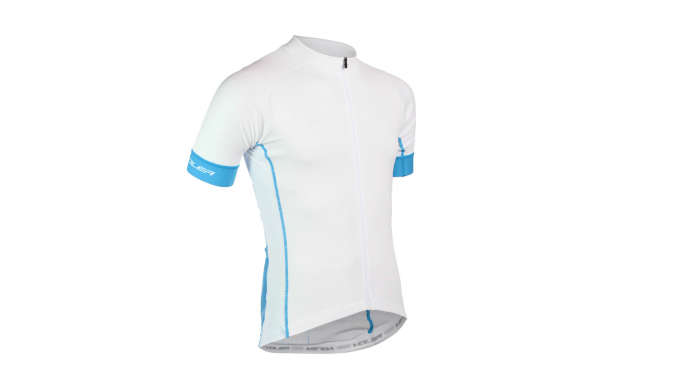 I've worn my fair share of kits. Maybe I'm something of a jersey and bib short hoarder–just ask my kid why there's no room to hang her clothes in her closet. All of those kits have some small feature that I wish was different. Some leg gripper that's too tight, zipper that refuses to lie flat, jersey that rides up or hangs too low. There's always something.
So I'm a skeptical rider who's meticulous about her look and zealous in her quest for comfort. And I'm here to announce that Voler has done it. They've made the perfect kit.
Voler Caliber DX Jersey & Bib Short Review
Options: The Caliber collection includes a range of kit options from the race-cut DX jerseys (tested), club cut jerseys, bibs, shorts, and long-sleeved options. Plus you can also pick up matching hat, socks, and vest. I reviewed the Caliber DX Women's Race Jersey and matching '16 Caliber Women's Bib Shorts, both kindly provided by the folks at Voler.
Price: Tested Jersey: $89; Tested Bibs $119
Colors: Jerseys in Navy (tested), White, and Orange; Shorts in Navy and Orange.
Chamois: Voler's Orion Pad
Upsides: Plenty of superlatives come to mind here because Voler has obviously refined, tested, and honed the Caliber line–listening to customer feedback and building on their already solid line of cycling jerseys and shorts. In short, Voler has either reached perfection or surpassed it (that's a thing, right?). This is perhaps the most comfortable yet still technically advanced kit I've ever worn.
No circulation-squeezing silicone where you don't want it. Form-fitting, race-ready cut with gripper-free cuffs at the thighs and arms means no circulation squeezers, a technical zipper that doesn't bunch, v-neck, chamois with an exacting amount of padding where you need it (and none where you don't) All of the fine details are here at a price point that is somewhat easy on the wallet (plus, if you're into the Voler Bucks program, you can grab $10 to spend on your first order)
Downsides: None. I am impressed with this kit. When I first slipped on the bibs, I thought they were a bit long, but into the ride I liked the better compression coverage. In the first mile, I was worried the chamois was too thin, but it held up on long rides. Short version? I tried to find fault here. I couldn't.
The Review
Technical Fit
The Caliber kit almost fits like a relaxed cut, but with excellent compression qualities. As I said, the shorts feature an 8.5 inch inseam, which is generally longer than I like. This seems due, however, to the added length of the silicone-free leg gripper bands–these keep the shorts from riding up without the usual discomfort of tight, sausage-leg inducing silicone bands. A perfect transition from cuff to bare leg here.
Similar grippers at the arms make for a super pro fit that keeps the jersey looking sleek at the shoulders with none of that puffing effect that elastic bands tend to cause. Add this to the v-neck style in the women's jersey, and you've got an almost aero look without the uncomfortable tightness of an aero kit.
High-Vis
Overall, this kit wins on a couple of levels: stylish high-vis and technical comfort. Voler has embraced the fact that it's important that we cyclists are easily seen no matter what the clock reads. The Caliber line still looks pretty pro while staying high-vis. Although the full-on orange jersey might not appeal to every cyclist, the color contrasts on each of the jerseys draws the eye of drivers. Couple that with a pixelated back pocket that glows when light hits it (as shown in image to the left), and you've got a kit that seems muted, but, in reality, is totally not.
Refreshingly, all colors are available for both men and women, which makes this a line that every cyclist can mix and match–sweet. In my opinion, the white jersey and navy shorts are pretty much the most pro you can go.
Technical Features
A slightly shorter jersey front and a super nice zipper make certain that the jersey lays flat. When you first pull it on, it seems a little short, but on the bike I never once felt the need to pull it down. It didn't seem to have the tendency to ride up that other jerseys in my closet do. Minimal silicone grips are placed in strips along the waist, which tend to grab on just enough to keep the jersey down.
The lightweight fabric is somewhat sheer, so a baselayer is probably a good idea here if you're worried about the see-through properties. But the ventilation is quite good, especially at the mesh side panels that seem to draw heat away from your core.
Chamois
Voler's new Orion chamois is impressive. As I noted earlier, the pad didn't look like it would stand up to a long day in the saddle. Relatively thin at even its thickest part and extremely thin at its thinnest part, the Orion has an exacting construction that eliminates the discomfort of over-pad at the edges. What does that mean? You won't find yourself adjusting the fit much as you ride.
This is the first "minimalist" pad by Voler that stands up to several hours on the bike without hot spots or reduced comfort. And you don't get that diapered feeling of bulkier chamois.
If you're looking for the coolness factor here, this pad actually has bits of carbon fiber in it (officially called EIT Carbonium Microfibre). Because you can never have enough carbon on a ride these days.
The Verdict
It's pretty hard to deny that I like this kit. Voler has put up a serious bar for others to rise to with the new Caliber collection. Comfort and performance blend to form a budget-friendly and high-tech addition to Voler's line. Plus, it's all made in America.
| Get more information at Voler's website