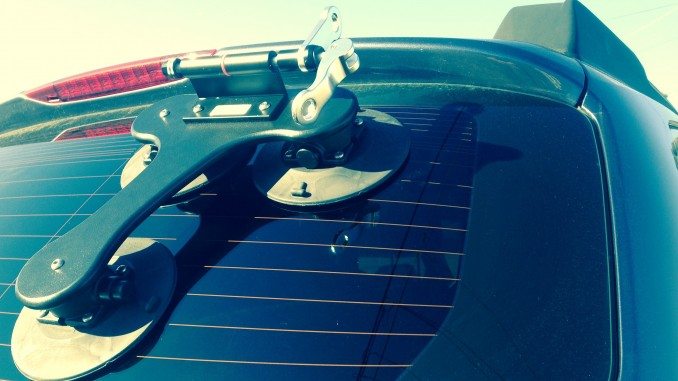 Sometimes, I'm driving down the road with the rack on the roof of my Prius (don't worry, my other car is much cooler), and I watch my fuel mileage plummet. All the while I'm turning up the radio to make it audible over the whistle of the empty rack. With my eyes on the radio and the dashboard, I haven't got much time to watch where I'm going. All because of the bars that have to stay on my car.
OK, that was a dramatization. But, really, it's pretty pointless to leave a fully installed bike rack on the car when I'm not carrying my bike. And, while the rack is removable, it's not easy or quick to pull off the roof–and trying to fit those bars in the back of said Prius is akin to losing at Tetris. Well now you can lose the rails and crossbars because SeaSucker has a solution: the Talon Bike Rack.
I caught up with the SeaSucker folks at Interbike last year, and they had some serious visuals on hand: we're talking a super expensive carbon bike hanging sideways off the driver's side window of a car. It was solid. No rocking, no slipping. I was kinda impressed. So the kind people at SeaSucker sent me one to try for myself.
SeaSucker Talon Specs
Price $270
Single Bike Fork Mount for 9mm Dropouts–15 and 20mm available, but not included (Check out the Mini Bomber to carry two bikes)
Made of HDPE for flexibility to contour to your vehicle
Comes with rear wheel strap
Measures approx. 15″ x 13″
My Review
The Talon turned out to be a small challenge to me in terms of review. Why? Because it's just kinda simple. Once you get the hang of it, this rack goes on in seconds, and comes off in milliseconds. It's stuck solid once it's installed, and it holds your bike like it's nailed to your roof. Nothing moves. I know, I know. You're thinking, "OMG, those suction cups will just un-suck and fly off." These ain't your grandmother's . . . . wait . . . . Just trust me. They're strong. In fact, SeaSucker put them on a race car to prove that they don't come off:
And after testing the Talon, I have to say that video is rather accurate. In my testing, I never once had a suction cup come loose. Although SeaSucker does recommend that you keep your driving to 75mph max (but no one goes faster than that anyway, right?).
Size & Use
At first look, the Talon is relatively light and small. It can easily store in your trunk when it's not on your car, and, with the ease of installation, I would recommend you take it off your car when it's not toting around a bike for you. To put it on, first make sure the surface of your car and each suction pad is free of dirt or damage. Run a little water over each pad before you stick it down, and likewise on your car if it's not recently been washed. Then simply push down on one suction cup to get it to seal slightly and pump the nozzle until you no longer see the white strip–repeat with each cup. This white strip works as a safety indicator: if you see white on any of the pads, don't put your bike on the rack. Re-install the rack, and if that doesn't work, you might also need to clean and lubricate the nozzle before you use it again.
Perhaps the coolest feature of this rack is its versatility. You can mount it just about anywhere on the bike. On my Outback, it fit on the rear door with the back wheel secured at the bumper. But there are a few things to be aware of when you're finding the perfect place to secure it. First, read all the instructions. Second, if you put the rack near the middle of your roof, it could lift the roof itself. I played around with the placement on my car and found that sealing the rack even 8″ or so back from the edge of the roof caused the metal to rock. Make certain you're placing the rack over a metal beam (for lack of a better word. I don't know cars) so that it offers more stability, and not on something like a moonroof. Third thing, once you've got each suction cup sealed, make sure they're all still pumped up completely. You may find that there are still a few extra pumps left to fully seal them all together.
To see how to install the Talon, check out SeaSucker's official video with official sounding music. Notice the freestyle chucking and catching of the bike and rack–highly recommended to make you look extra cool (OK, don't actually do that).
Side Note: The rear wheel mount shown in this video is an optional upgrade. The kit I tested comes with a simple strap-style mount.
Security
Although the novelty of the SeaSucker might scare off would-be thieves, it's a great idea to buy the optional cable anchor mounts for $29.99. Depending on where you mount the rack, they're available for the trunk or window. I tested both options, and found them super easy to use, and they easily fit a cable lock. Although it was somewhat difficult to find a place for the trunk anchor on the rear gate of my Outback, it did fit near the tail light after some adjustment. But given a choice, I would go with the window anchor, which easily slides onto the window (FYI, it's not recommended for use with tinted windows).
In my opinion, I like the ability to combine a stronger type of lock in the fork mounts with the cable anchors. Two locks are better than one, and it may buy you some extra time if a thief does decide to try and make off with your bike.
My Verdict
The Talon solves a very real problem for plenty of cyclists, and the ease of installation makes this unit peerless in the rack market. If you're looking for a rack that you don't have to leave on your roof, or you want an alternative to the old school hitch/trunk systems, this is the answer. All in all, it's pretty innovative, and just sorta kinda awesome.
Stick your own SeaSucker to your vehicle–get one at SeaSucker's official website, or ask for it at your LBS!