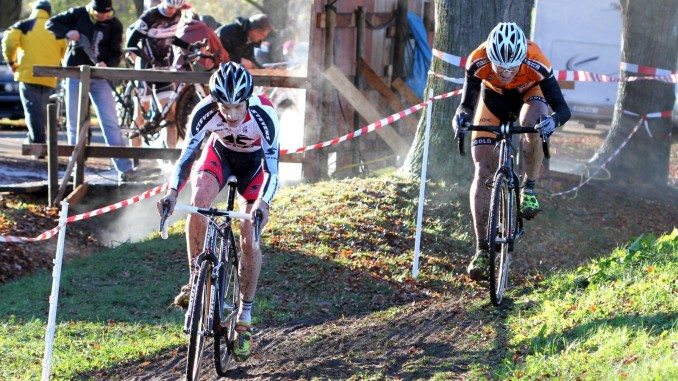 Sea Otter, 2015. April and unseasonably warm. The cyclocross track cut straight through the pavilion with manufacturer's tents and flags skirting the boundaries. I stood at the base of a ramp preceded by an s-curve that most riders completed by skidding to the dirt. There was so much blood. So much mud. And every hint of burning lungs.
And I was, as they say, hooked.
A few planning meetings later, and SLO Cyclist was set to have its very first expansion: Cyclocross.
In one of those meetings, our chief editor told me I just wanted a reason to +1 my stable of bikes. I reminded her that in reality no one ever needs a reason to +1 their stable, but the idea of a "jack-of-all-trades" bike that can go from road to beach to mountain was something of a serious draw.
And my carbon Cervelo road/triathlon bike ain't gonna take the mud so well.
So I'm here to take the plunge. Learn cyclocross from scratch (with a little help from my friends and industry folks), and pass along my hard-won knowledge to you. My ultimate goal is to be ready for SLO Cross this November, but the SLO Cyclist 'Cross Section won't end in November, it's sticking around for good.
A Few Basics on 'Cross
So what kind of setup do you need on a 'cross (aka CX) bike? Although many ride/race CX on mountain bikes or single speeds, the type of 'cross we're going to be discussing is closer to the road side of things: light weight bikes with drop handlebars and narrower tires (up to 32mm) than mountain or downhill bikes. And like road, they come in all different sizes, options, groupsets and gear–all of which I'll be discussing in upcoming posts.
CX bikes typically ride tires with knobby tread for better traction on various terrain. They often have stronger frames, lower gearing and greater clearance at the tires so mud and debris don't get caught and bring the rider to a more than sudden stop. But bikes are just the visible part of the iceberg, we're going to talk how-to's and training plans too.
A Little More About Me
I'm a 33-year-old working father of two. Married to a dedicated roadie that can put most male riders to shame and looks fantastic on her racy little carbon bike, but please don't ask her about the last time she dropped me on a climb. She won't let me forget that one.
I stand 6'-1" and should weigh about 200 but tip the scales currently at 225. Yikes! That's daddy weight from our latest addition (no that's a real thing, trust me). In my youth I was very active, always outside and a decent athlete in several sports: baseball, basketball and golf. I also swim, jog, play tennis, hike, kayak and generally enjoy an active lifestyle outdoors despite being asthmatic. In my college days, I was a pretty decent triathlete. Lately, I've traded in all this fun in the sun, for a desk chair. Which means my waistline has been expanding while my lung capacity and overall health is diminishing.
In short a big motivator for me is to improve my fitness and health while trying a new avenue of cycling. But I also see a boyhood interest in riding my bike over all sorts of terrain, as fast as I can and where need be hopping off, shouldering my bike to run over various impediments and getting good and dirty in the process. Sounds like a grown up obstacle course on a bike. Awesome! I'm actually pretty sure I've done cyclocross before. At 8 years old, I remember skinning my knees riding off the front steps to a concrete walkway then getting up to continue over some rocks, through my sand box, under some low tree branches and then sprinting across an imaginary finish line in our lawn. So, yeah, I'm qualified.
Here's hoping you'll enjoy becoming an expert in CX with me. Our first articles will cover searching for a starter CX bike, getting the gear you'll need, training plans, and finding local events.
As they say in cyclocross, "Um, whoa. All right."
Photo by Steffen Ramsaier