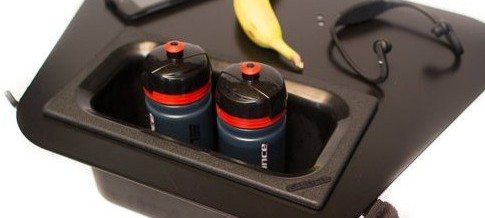 I harbor a small amount of hatred for clip-on aerobars. Try loading a bike with aerobars into a vehicle and you will understand why I carry these feelings. When they thump you in the forehead for the sixth time, you will also vow never to use them either (it's complicated, OK?) But the times I actually felt at ease with my aerobars were spent on the trainer, alone, and with an iPad laid across them. Nothing else would let me hold on to the darn tablet and type while still keeping an eye on my watts. What a serious pain to clip those darn things on every time I wanted to train indoors, but what alternatives were out there? Shelves. Boxes. Book holders. All lame excuses for media stands.
I suffered in silence . . . sometimes.
Enter Cave Competitor.
For all of you who also suffer (in silence or otherwise) on your indoor trainers, Cave Competitor has an answer. Their range of products offer stay-cold nutrition, media display, and even bike repair in a variety of stands designed to keep you comfortable and motivated, no matter how long your training session.
Cave Competitor has come up with two base systems: the Media Tower, and the Cave Caddy (which also works in tandem with the Service Post). Combine all three of these for a whole-room solution to your indoor training woes.
The Media Tower ($349)
This single piece of equipment promises to banish makeshift holders from training rooms for good. If you've fallen in love with programs like Zwift or The Sufferfest, here's a simple way to display those programs right in front of you–not to mention your Netflix playlist. With a height adjustment of between 36-60 inches, this stand should work for just about any rider's setup. It holds up to 18 inches of tablet/phone/laptop via the integrated soft clamps that keep them secured. And yes, it even accommodates a small flat-screen TV. Two cupholders complement a handy little bar that allows you to install your bike computer stem mount onto it for heads-up display, so you can keep an eye on your power output without taking your eyes off of The Hunger Games.
The Cave Caddy ($319)
The coolest piece of equipment in the Cave Competitor line-up (I couldn't stop myself from that pun), this stand can serve two purposes if you combine it with the Service Post. With a built-in nutrition tray, you simply throw the removable cold pan into the freezer overnight, and it comes out ready to keep your drinks or food at or under 40 degrees for up to eight hours. Yes, EIGHT HOURS. That's quite a few stationary miles. Hooks on either side of the cold pan hold your towels–perhaps obvious, but one seriously useful feature–and the flat surface holds things that you might not want deep chilled.
The optional Service Post mounts into pre-drilled holes, and an added T-post keeps the Cave Caddy from tipping over when you hang your bike up. The folks at Cave Competitor also claim that this stand is compatible with other service posts on the market (as long as they fit the pre-drilled four-hole pattern of "3.25 and 3.75 inch holes on center").
Finally, the Cave Caddy also adjusts to match your on-bike height from 30-48 inches.
The Service Post ($59.99)
Simple in its design, the Service Post is a bolt-on bracket that, as I mentioned above, works with the Cave Caddy to create a work stand. But you can also use this one on its own if you have a table or other suitable surface to mount it to. At only $59.99, it's a relatively cheap alternative to other stands available these days.
Although I haven't had a chance to test the Cave Competitor line, their products are also completely manufactured in good ol' Iowa and built with commercial grade materials that should mean high standards and quality.
All in all, Cave Competitor might just have the answer to our indoor training woes. Heck, maybe they'll make it enjoyable enough to make us actually want to use the trainer? Maybe.
Want to try out any of these pieces? Head over to Cave Competitor's website to get your own, and then head back here to let me know how you like it. You can ask for them at your local bike shop.